Łukasz Chruściel makes it to API Platform Conference again!
Łukasz Chruściel, Sylius Partner and Technology Lead, is one of the speakers at the API Platform Conference in Lille, France! Join him for his talk titled 'Dilemmas and decisions. What we've learned designing the new Sylius API' on Thursday, Sep 15, 2022 at 11:00.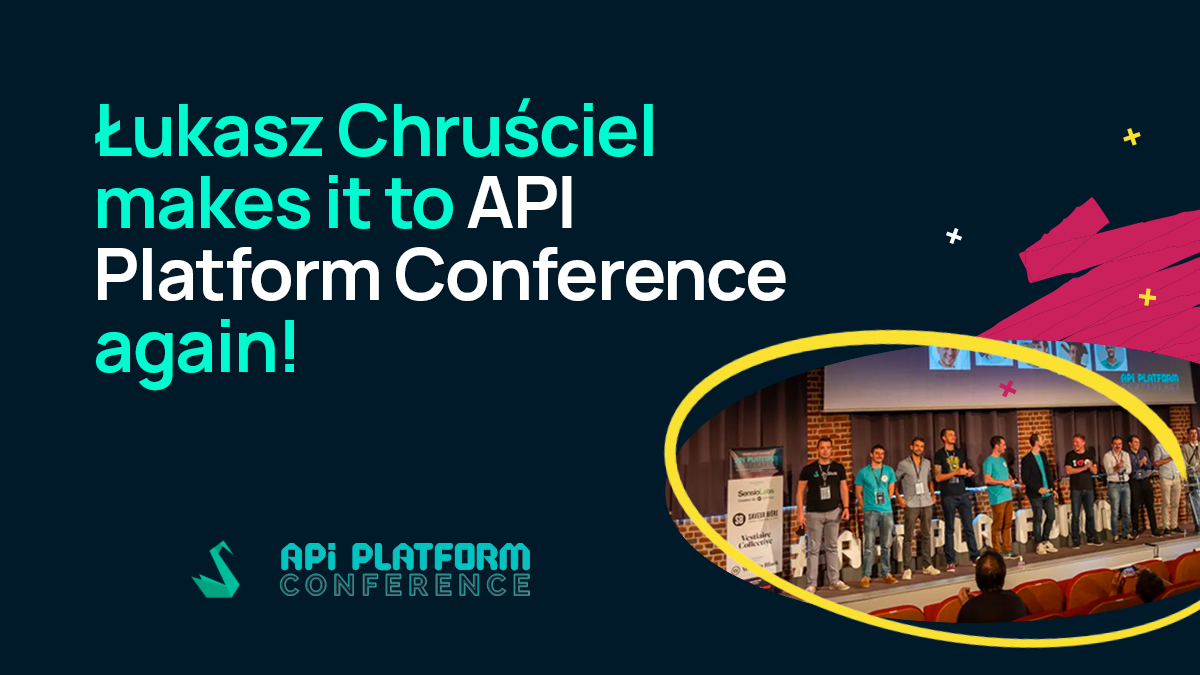 What is API Platform?
API Platform is an open-source framework that was built on Symfony to create APIs. It is well-recognized as the most popular solution for creating APIs on Symfony projects. It allows users to easily build Next.js, Nuxt.js, and mobile apps from API definitions. Aside from a REST/HATEOAS or GraphQL API, it provides a wide range of options for developing web APIs.
What is the connection between Sylius and API Platform?
Let's hear it from Łukasz Chruściel, Sylius Partner and Technology Lead:
"Two years ago, we decided to revamp Sylius API with the help of API Platform. This decision was only possible because we both believe, that to go far, you need to bet on high quality and standardization. As none of the projects doesn't reinvent the wheel but specialize in their niche, we could easily find a common ground to cooperate. This decision put the foundation to bring better quality for both products, as both Sylius and API Platform can learn from each other and develop their products based on shared experience."

– Łukasz Chruściel, Sylius Partner and Technology Lead
What about the API Platform Conference 2022?
Similarly to the last year, API Platform Conference will be hybrid – live in Lille (🇫🇷 France), and online from wherever you happen to be. Two days (15 and 16 September 2022) packed with over 25 speakers sharing their insights on API Platform, Symfony, PHP, Cloud infrastructures, and more.
With the new exciting API Platform 3 ahead bringing a whole new set of toys features to the programming table, API Platform Conference is a place to be on Thursday and Friday, 15-16 Sept.
There will be two tracks 🇬🇧 and 🇫🇷, and here's what you can expect:
New release: API Platform 3 (you can already test the Beta version)
Symfony Core Team members
How to build fast, maintainable API's with world-famous API experts
And of course: Open Source contributors, including – among others – our Łukasz Chruściel
You can find the whole schedule here, and Les-Tilleuls.coop – the conference organizer shared with us a 10% discount code for both live and online registration. The code: WEBBYLOVESYLIUS10
What will Łukasz Chruściel speak about?
Sylius and API Platform story started 2 years ago when Sylius decided to rebuild its API to make it more flexible and yet – better standardized. Today, when with almost 100% coverage, we can say, we've learned a lot during this journey. Łukasz will share with you:
What was the path that we've gone through?
Why did we design our API this way?
What were our heuristics and what did we achieve?
How do design more complicated flows in API?
Join him on Thursday, Sep 15, 2022 at 11:00!
SyliusCon is just around the corner!
Yes, that's right – we take any opportunity to tell you about our first Sylius-focused conference, and so it is now. A comparably great speakers' line-up, yet in a completely different location. Łukasz Chruściel (AGAIN! ♥️) but with a completely new topic, we'll even borrow Les-Tilleuls' Kevin Dunglas for a sec 😉. Learn more about SyliusCon here, or get straight to the agenda here.