As the cool breeze of autumn begins to dance through the streets, the things at Sylius has been anything but at rest. From advancing our product offerings to engaging with the community through many events – the journey was nothing short of exciting. Now, as we stride into the exhilarating future, let's pause to reminisce about the milestones achieved and the fascinating voyage ahead. Grab a cup of coffee, and let's traverse through the highlights of a bustling month at Sylius! 🦢
SyliusDays in Paris 🥐🇫🇷
SyliusDays offered two engaging workshops, networking, and a hackathon centered on the Sylius ecosystem. Attendees from across Europe delved into Symfony, API Platform, and Sylius workshops thanks to experts like Hubert Lenoir from SensioLabs, Grégoire Hébert from Les-Tilleuls.coop, and Przemysław Ptasiński from BitBag. The workshop day was followed by a hackathon session, which served as a great community networking possibility. Special kudos go to our sponsors who made The event memorable: SensioLabs, Smile, Les-Tilleuls.coop, BitBag, and Mollie, each contributing uniquely to the event's success. As we wrap up, a special thank you to all participants. Don't miss our upcoming events, and for an in-depth summary of SyliusDays, visit this blog post, where you will find an extensive summary and great pictures! 🖖
SyliusCon – rich update before the conference! 📣
Many things happened this month in regards to SyliusCon. For starters, we announced almost all of the speakers lineup for Sylius Con, which will be divided into two business tracks and one technical track. You might be hearing about them on our social media in the upcoming days, but if you are curious about the final version of our lineup, visit the conference website.
Too lazy to click? Here's a list of speakers for:

💻 Dev track: Jakub Tobiasz, Johannes Wachter, Filip Rakowski, Łukasz Chruściel, Mateusz Zalewski, Joachim Løvgaard, Loïc Frémont, Olivier Allain, Ivo Lukač, Jacques Bodin-Hullin, Sebastian Michaud, Andrejus Voitovas, Stephan Hochdörfer, Oliver Kossin, and Guillaume Loulier.

💼 Business track: Ben Marks, Przemysław Połeć, Przemysław Ptasiński, Kuba Zwoliński, Marcin Piwowarczyk, Radosław Żurawski, and Anna Karoń.
Want to swag up for the conference? We've got you covered! We launched a dedicated set of Sylius-branded clothes available for conference participants only! You'll find winter socks, a winter hat, a T-shirt, and a hoodie. You will also find a Sylius pin and keychain in our starter pack.

Want to grab one of those famous ElePHPant plush? Mollie and BitBag, our sponsors, prepared something extra! There will be a raffle where you will get a chance to win one of the few unique PHP and Mollie-branded 🐘.
Networking is a vital part of any conference. For this year, we prepared plenty of opportunities specifically for that occasion. Those will be:

🍻 Community be(er)for party, to warm up a little before the big day, get to know each other, or unite with those you mostly have a chance to talk to over Slack or Stackoverflow on a daily basis.

😌 Chillroom sphere during the conference itself, where you will get a chance to get involved in engaging conversations with each other, exchange experiences, meet new people, and start new initiatives – the sky is the limit here!
🥂 Afterparty! A unique opportunity to catalyze all the good vibes after the conference, get a coffee, beer (or whatever you prefer), and enjoy the beauty of Poznań city while getting closure on the whole event.
This month alone, we onboarded a bunch of new sponsors and media partners who are involved in making the conference even more special! Give a warm welcome to Mollie, our naming sponsor; our gold sponsors – BitBag and Ergonode; silver sponsor – Monsieur Biz; bronze sponsors – Emagma, Netgen, bitExpert, and Vue Storefront. A bunch of media partners also back the conference – PHPers (Polish PHP Community), Forum PHP (French PHP Community), e-Izba (Polish Chamber of Digital Economy), and justjoin.it (Job Board for tech industry in Europe).

In September, we managed to publish a rich travel guide for those struggling with planning the trip properly ✈️. It's on the conference website already, which, since recently, besides English, is also accessible in French and German. It could have something in common with expanding our business team a little, but that's for the next month's summary!

Still with us? Great! One little announcement! Regular-price tickets end on the 10th of October. The number of places is limited, so if you still have not secured your ticket yet and don't appreciate paying an extra premium for being one of the last on the guest list, you might want to hurry a little.
Community Product update
v1.12.11 release 🎉
This month, we're excited to roll out version 1.12.11, packed with important updates and fixes. Here are the highlights:
Product Enhancements
Product Metadata: We've added validation for meta keywords and descriptions, ensuring better SEO results.
Checkout Process: The CheckoutResolver is now more resilient, reducing errors during checkout.
Administrative Updates
Locale Flags: Admins can now see flags properly displayed based on locale codes for products and catalog promotions.
Routing Fixes: We've corrected inconsistent routing in the Admin panel.
Country-Provinces: Added violation checks for provinces to prevent duplicates in codes or names.
Taxonomy: Improved slug generation for taxons now works based on the parent field.
User Experience
Attributes & Taxons: Fixed the issue of attribute creation when the default locale is unavailable in our store, as well as problems with updating product taxon positions.
Product Reviews: Users logged in with the 'Remember Me' option can now add product reviews without errors.
Localization: enhanced locale-based flag display.
Documentation and Developer Tools
We've updated our checkout.rst, UPGRADE-1.12.md, and added notes about accessing guest orders.
Docker enthusiasts can find a custom docker composer file now added to .gitignore.
Bug Fixes
Resolved the problem where taxons would "jump" during reordering.
Fixed issues related to promotions, ensuring a more robust promotional rules engine.
Prevented 500 errors from being thrown during the finalization of an order when at least one item has been tracked.
We believe these updates will significantly improve your experience with our product. For more details, you can read the full release note here.
Additional Notes
We're actively decreasing the number of open Pull Requests and bug backlog.
Stay tuned for our upcoming 2.0 launch – it will be a game-changer!
Thank you for your ongoing support! 🌟
Sneak peek from the new Bootstrap admin panel theme 🎨
We're excited to give you a sneak peek into what's coming with the Sylius 2.0 release. A key focus for this update is the complete overhaul of the admin panel. Our team believes an intuitive and user-friendly interface can make a huge difference, so we've invested significant time and effort into this redesign. While Semantic UI has served us well in the past, we're moving forward with Bootstrap for its versatility, widespread adoption, and extensive community support. Our goal is to make the transition smooth and beneficial for everyone. This isn't just about aesthetics – the new design aims to enhance the day-to-day interactions between end-users and developers. We're streamlining workflows, adding new features, and ensuring the platform remains robust and scalable. With these changes, we aspire to offer an unmatched experience that caters to the diverse needs of our community.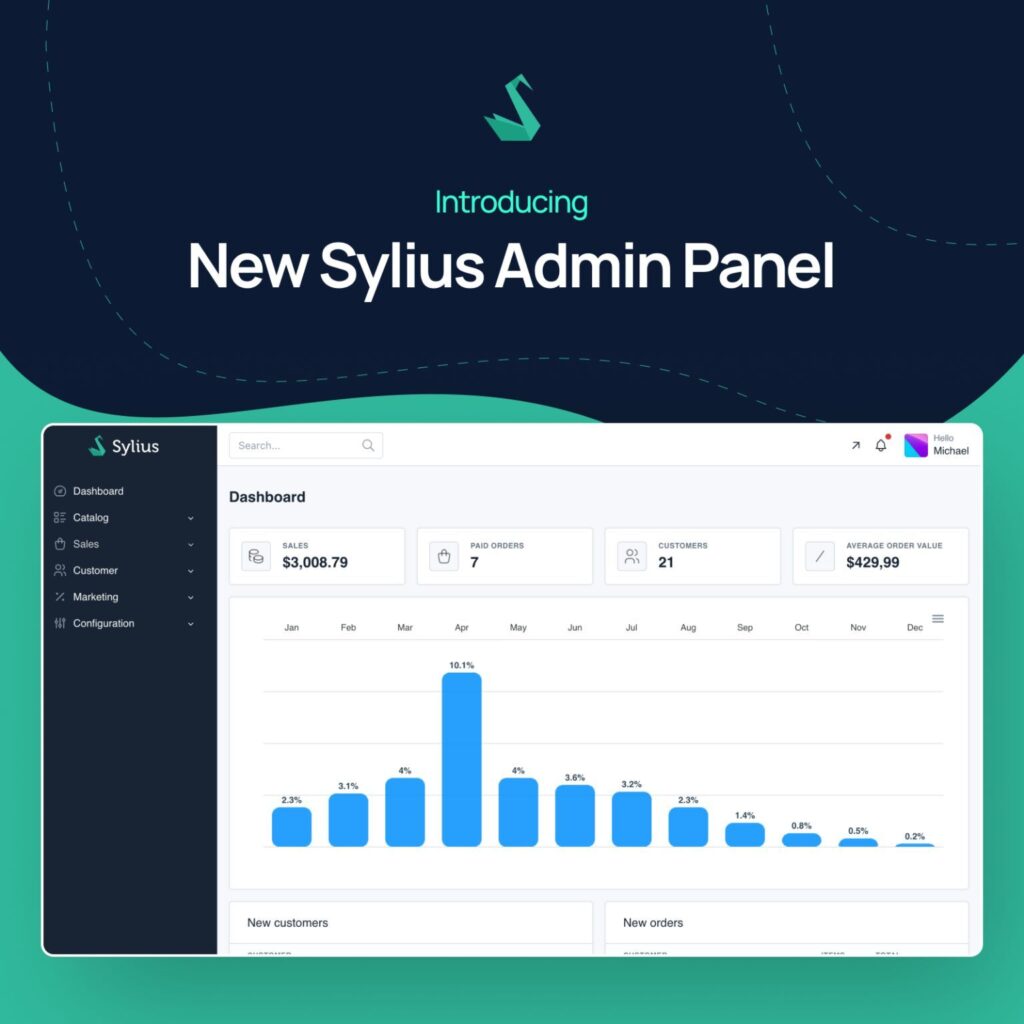 Update on new documentation 📚
In our journey towards Sylius 2.0, we're enhancing Developer and User Experiences by thoroughly reworking our documentation with GitBook's invaluable support. Key improvements include an AI-driven lens search in the documentation, facilitating quicker and more precise information retrieval, a user-friendly dark mode for better accessibility, and a simplified documentation contribution process through a direct GitBook GitHub connection. These updates make learning Sylius more enjoyable and pave the way for richer user documentation and example-driven pages, aiming to provide comprehensive references to Sylius-based projects for solving specific challenges.
Sylius Plus updates
New One Page Checkout Module 🛒
This month, our product team was also busy extending the commercial part of our product. We added a new module to our Sylius Plus offering, which offers a simple solution to increase your User Experience by allowing customers to complete the checkout on a single page. What does it mean exactly? With this feature, you can display all elements in a single form, such as billing and shipping addresses, shipping options, and payment information. Simplifying the checkout process could help you increase the conversion and reduce the percentage of abandoned carts.
Interested in discovering the capabilities of this or other Sylius Plus features? Read more about what's included and contact us using this dedicated page.
New B2B Module 💼
Although silently mentioned in our recent monthly summary, we officially announced it this month! The B2B module is a pack of features. There are now seven modules available within Sylius Plus! We've released the first stable version of the B2B module that includes a set of advanced features such as:
organization management,
multiple pricing lists,
quick shopping,
import/export module,
advanced search features.
Sounds good? Schedule a live demo to discover all the possibilities of the B2B module: sylius.com/try
Most active external contributors
In the ever-evolving landscape of open-source technology, it's the contributors who truly breathe life into a project. As the curtain closes on another fruitful month, we're thrilled to acknowledge the outstanding contributions to the Sylius project. Your Pull Requests (PRs) have been invaluable, and we can't thank you enough! Let's dive right into recognizing our most active contributors:
Your initiatives and problem-solving prowess have contributed immensely to the growth and stability of Sylius. Whether you're a seasoned contributor or new to the community, your work deserves celebration. We're looking forward to another exciting month of collaboration! Keep on doing a great job! 🖖

Would you like to contribute and be listed here? Check our contribution guide!
Announced Sylius project victories ✌️
In September alone, Sylius was mentioned as part of seven successful implementations among social media!
Azrieli.com – a marketplace for one of the most significant public companies in Israel by BitBag
Azrieli.com is a beacon in Israel's online marketplace, boasting an expansive product range that spans categories from fashion and electronics to pharmacy, sports, and beyond. With limited internal developer resources, Azrieli turned to our partner, BitBag, to transform their online experience with the combination of Sylius, Mirakl, and many other 3rd party systems. Read more.
ARTERA: Lighting the Way Forward in E-commerce Innovation by BitBag
ARTERA, a renowned brand under ALDEX sp. z o.o., faced technological challenges due to its outdated Sylius 1.2 platform. BitBag stepped in to spearhead a transition to Sylius 1.11, introducing 3D product models, refining search functionalities, and ensuring seamless integrations. Read more.
Emagma Embarks on a Mission to Enhance the Digital Experience for Toulousains with Sylius
We're constantly inspired to see our partners embarking on transformative projects, and the collaboration between EMAGMA and Tisséo is a testament to that. EMAGMA has been officially selected by the transportation authorities of Toulouse Métropole, Sicoval, SitPrt, and Le Muretain Agglo to redesign their online and mobile storefront. Read more.
The Evolution of Basik Air Concept's E-commerce Platform with Sylius by Dedi Agency
Dedi Agency has had a remarkable year, and the culmination of their efforts is evident in the launch of Basik Air Concept's elevated eCommerce platform. The platform is not just ergonomic and comprehensive but also serves as a state-of-the-art reflection of Basik's rejuvenated brand image. Read more.
LS-Occasions.fr – crafted by Sutunam in collaboration with LS Group
The LS Group engaged the expertise of the Sutunam development team to create LS-occasions.fr, a unified car marketplace powered by Sylius. This project's heart was a customized ETL system, skillfully synchronizing inventories across 23 car brands and 50 different stores and implementing key eCommerce features. Innovative financing solutions and door-to-door delivery services were introduced, significantly elevating the user experience and operational efficiency. The robust foundation provided by Sylius supported the whole process. Read more.
PlayModeGroup: Harnessing the Power of Sylius in an Innovative Project
We're thrilled to announce that the new e-commerce platform for PlayModeGroup is now live! This successful project was spearheaded by the H360 Horizon team in collaboration with PlayModeGroup. The platform is built on the Sylius framework, offering a robust e-commerce solution, and also utilizes cutting-edge technologies such as the "headless" approach. Read more.
Kudos to all the teams that work hard to deliver a great eCommerce experience to their end customers. Sylius itself is a great product, but we know how much effort you put into tailoring it to your customers' tastes. Even more, thank you for sharing the proof of our product's uniqueness in your publications!
Blog Articles Highlights
Besides outstanding customer success stories, a number of blog posts were created in the recent month. Check the publications:
Insightful social media mentions
Check some of the most insightful social media mentions about Sylius in September:
Little bonus
This section was supposed to promote external Tweets, but this month alone, Jacob Tobiasz, a Sylius Team Member, posted many (often funny) mentions on what's happening inside the project and which direction we are heading towards. We thought it'd be handy if we listed them too – just this time 🙂
You are more than welcome to share your feedback in his tweet replies! 💬
New Sylius partnerships 🤝
We are thrilled to share some wonderful news with you! Over the past month, our partner ecosystem has grown by three new members. We welcome two partners straight from Germany and one from the Netherlands.
We're excited about this new collaboration! An official announcement is coming soon on our social media channels. Follow us to learn more about our new partners!
New marketing campaigns
In October, our social media activity at Sylius reached a new level. With enthusiasm, we conducted a series of campaigns related to the upcoming SyliusCon. Anyone who followed our channels could stay up-to-date with the speakers and the topics of their presentations. Equally important were the details about our sponsors, whose support is crucial for the success of such a significant event.
Mondays this month became the day when we highlighted our partners. As part of the "Partner of the Week" series, we reminded everyone about the companies and agencies collaborating with Sylius. It's an excellent opportunity to thank them for their hard work and commitment to developing the Sylius ecosystem.
On Tuesdays, on the other hand, we focused on the wonderful tools created by our community. Thanks to the "Plugin of the Week" series, we showcased various plugins and the creators behind them. It's essential to appreciate the effort and creativity of people who contribute daily to the growth of Sylius.
Sylius at various events 📢
In the world of open-source eCommerce, there are countless events that gather experts from all over the world. Our key team members participate in them frequently!
Past: API Platform Con in France
During API PlatformCon, Łukasz Chruściel, our Core Team Member, delivered a presentation titled "The Need for Speed: Removing Obstacles in API Projects." His expertise, especially in integration with the API Platform, provided attendees with insights into the typical challenges of API projects and how to overcome them. Meanwhile, Loïc Frémont, another of our Core Team Members and a PHP software engineer with a deep passion for Open Source software shared his observations on version 3 of the API Platform and its significance for the developer community. After his presentation, Loïc gave a speech titled "The Impact of API Platform on Open-Source." If you are curious about the content, the slides are public and available here.
Current: Ecomexpo '23 in Lithuania
On October 5th, we are teaming up with Nordcode, our Lithuanian Premium Solution Partner, during Ecomexpo '23, one of the biggest e-commerce conferences in the Baltic states. Przemysław Połeć, our business representative, and Justinas Rastauskas, Nordcode's CEO, will be there to chat and answer all your questions! If you're there, drop by our booth!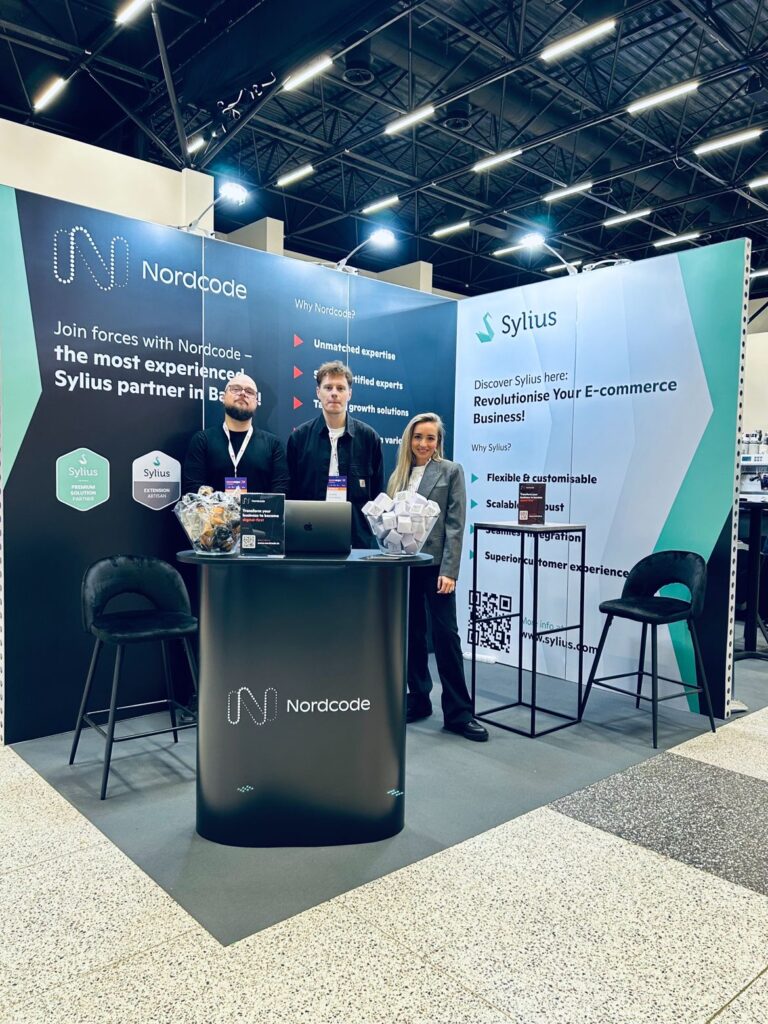 Upcoming: Forum PHP 2023 in France
Soon, at the Forum PHP 2023, which will take place on October 12-13th in Disneyland Paris, Florian Merle from AKAWAKA, a Premium Sylius Solution Partner and an expert in PHP, Symfony, and Sylius, plans to present his experiences with using Sylius in the context of the PHP ecosystem. Mateusz Zalewski, also a Core Team Member, intends to highlight the importance of Sylius for global e-commerce, sharing his vision for the future of this platform.
Summary of the summary 🚧
It's been a bustling and buzzing month in the Sylius sphere, packed with events, code crunching, and gearing up for the much-anticipated SyliusCon. From the get-togethers in Paris at SyliusDays to the tech talks at API PlatformCon, we've shared laughs, ideas, and many smiles along the way. The fresh code in our latest release is humming along nicely, and the ever-growing partner tribe makes our ecosystem richer. Now, as the autumn leaves fall, we're all eyes on SyliusCon. It's not just about the insightful talks lined up but the people, the community, the synergy that makes Sylius what it is. So, whether you're a code poet, a business buff, or someone with a soft spot for PHP, come along, let's make SyliusCon a melting pot of ideas and camaraderie. Our sleeves are rolled up, and we're all set to dive into the discussions, code, and perhaps a coffee or two. Catch you there! 🖖