Mollie needs no introduction to our community. The company has been with us for many years as a partner, Payment Service Provider with a great value proposition, and recently, as a naming sponsor of our 2nd SyliusCon. Given all that, we thought it would be cool to highlight some of their values you might not have been aware of and mention a few interesting facts that we are sure you have never heard about!

A powerful fintech by design
Mollie, founded by Adriaan Mol in 2004, embarked on a mission to challenge the conventional by simplifying intricate financial technology, offering SMEs a competitive advantage with its superior payments platform. This vision wasn't just a fleeting aspiration but a long-term commitment, as demonstrated by the profitable bootstrapping journey of Mollie, a testament to the robustness of its payment platform.
Over the years, Mollie has been a game-changer in the payment services sector, making financial services seamless for its customers. The disparity in the services available to large eCommerce entities and SMEs was glaring. Despite the advent of numerous SME-centric neo-banks, the chasm remained unbridged. This gap was especially noticeable when SMEs sought rapid access to short-term capital to seize fleeting opportunities, only to be deterred by lengthy loan processing times. Mollie ventured to close this gap, making the eCommerce payment sphere self-serve, thus facilitating easy payment integrations, customer onboarding, and payment acceptance for SMEs. The initial venture into short-term financing with Mollie Capital marked the beginning of a suite of financial services to foster its customers' growth.
A true partnership with Sylius
The partnership between Mollie and Sylius started in 2018. It unfolded from a shared vision to enhance merchant experiences and democratize access to superior services. Their shared ethos naturally steered them towards fortifying their partnership by sponsoring SyliusCon. Worth mentioning is also the fact that the company supported another big event of ours recently – SyliusDays in Paris. Members of the Mollie team are involved in communication with our community and organize & participate in various events.
Years ago, as part of the partnership, a state-of-art connector was crafted. The integration offers a spectrum of flexibility to merchants, allowing them to toggle payment methods based on their needs, ensuring ease of connectivity, and, importantly, introducing a subscription service directly within the integration. This piece of software aims to retain the functionality of Sylius while embracing the simplicity that Mollie embodies, thus crafting an end-to-end eCommerce payment solution that is easy to use and offers a wide range of possibilities, as we highlighted below.
Mollie's innovative insight and integration with Sylius
Innovation is the linchpin in a realm where digital payment landscapes are in constant flux. Mollie is relentless in its quest for innovation, echoing their partners' and customers' needs and aspirations. The recent launch of Mollie Terminal, a Point Of Sale (POS) payment terminal, and Mollie Capital are steps towards enabling merchants to thrive in an omnichannel environment and providing swift, flexible financing solutions to growing small and medium business enterprises.
The Mollie integration with Sylius provides a wide array of important functions for payment processing, as detailed on their GitHub repository. Here are a few facts about the integration that are worth mentioning:
It supports various payment methods such as Credit Cards (MasterCard, VISA, American Express), PayPal, ApplePay, Klarna, iDEAL, SEPA, SOFORT, EPS, Giropay, KBC/CBC Payment Button, Przelewy24, ING Home'Pay, Belfius Pay Button, Gift cards, and Apple Pay Direct.
It provides a simple payment API that integrates over twenty different payment methods.
The plugin is open-source and freely available for integration into existing projects.
Mollie emphasizes innovation in payment solutions, aiming to offer more user-friendly and flexible products than traditional bank offerings.
The plugin is officially certified by Mollie and is designed to create a seamless payment experience.
If you're curious about the capabilities of the SyliusMollie Plugin, we invite you to visit our Sylius store for more details.
Mollie at SyliusCon – a true testament to their involvement in the Sylius ecosystem
The mantle of naming sponsor for SyliusCon is not merely a title but a reflection of their aspiration to solidify a partnership with Sylius, particularly in regions of our operation, and to foster awareness about the burgeoning ecosystem dedicated to serving developers and merchants alike.
For Mollie, contributing to the knowledge-sharing ecosystem around Sylius is important. The company is known for its involvement in many significant open-source communities, and we couldn't be luckier to have them in ours. By design, SyliusCon is a conference that amplifies connections with the community and facilitates knowledge exchange. Having them as our naming sponsor was a no-brainer!
Even though many Mollie team members couldn't make it to the recent storm in the western part of Europe, they managed to secure a stand, give a speech, and organize a raffle giving away a few sweet ElePHPant plushes! If that isn't a true commitment testimony, then we don't know what is!
We are also thrilled to announce that a recording of Sebastian Michaud's presentation will soon be published on our YouTube channel.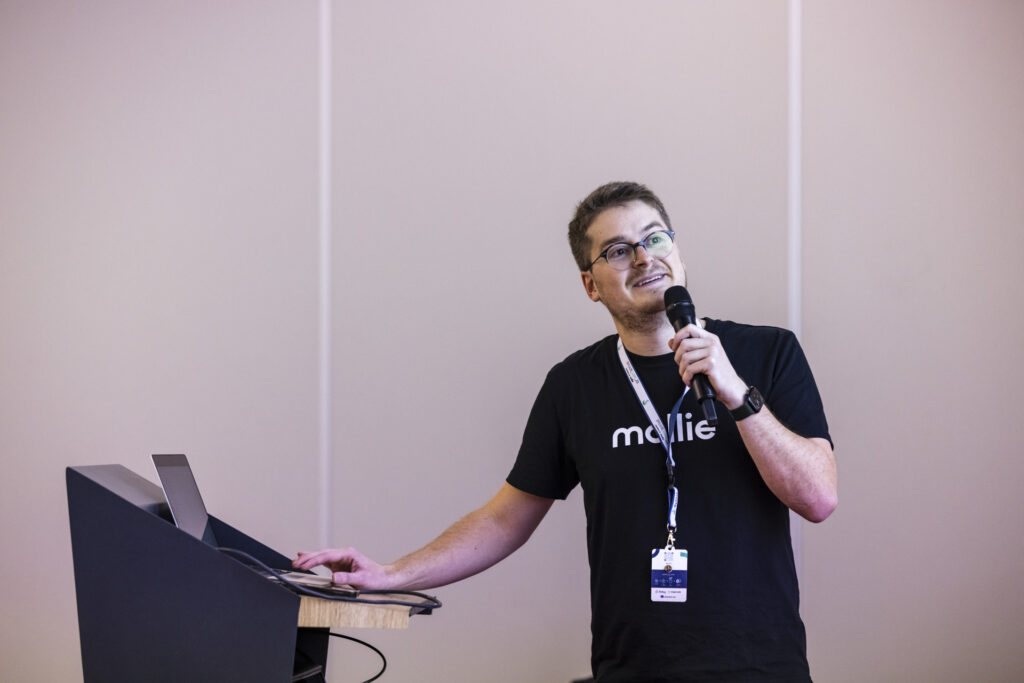 Beyond SyliusCon – The road ahead for Mollie and Sylius
The epoch post-SyliusCon is filled with anticipation. Mollie aims to explore further collaborative ventures with Sylius, particularly in our operating regions, continuing to serve the developer communities with flexible, user-centric integrations.
Relentless endeavor to enrich features for merchants continues unabated. The forthcoming updates are poised to introduce alternative payment methods, filter payments by order amount, and unveil the single-click payment feature with Mollie's embedded credit card fields.
Community and partnership pillars
At Mollie, community is more than just a word; it's at the heart of what they do. Their unwavering passion for empowering developers shines through in the ample tools, resources, and robust support they provide, all aimed at enhancing the merchants' experiences. The Mollie Discord community is a testament to this dedication, serving as a vibrant hub where developers can connect, engage with the product and engineering teams, and stay updated on the latest product developments.
In line with this deep commitment, Mollie is a dynamic presence within our community, especially evident in our Slack community channel. Here, they offer active support and foster interactions with users of their integrations. This channel offers a space for direct support, idea exchange, and close collaboration with the Mollie team, further showcasing Mollie's commitment to providing and ensuring the effective use of their tools for the community's success.
Thank you for being around, Mollie! It's good to have you! 🦢