The fashion industry is highly competitive. Being a part of this crowd and crafting your unique value and position is demanding and requests lots of creativity and agility. Knowing what we know, it's even nicer to look at businesses such as Smathers & Branson. Let's take a closer look at how the success of the company has been shaped and how Sylius helped in creating its current situation.
What stands behind the brand?
The company started in 2004 when Peter Carter and Austin Branson decided that gifts from their girlfriends deserve to be more popular. Needle belts they received as a form of a nice surprise became their main idea for a business. With a little help from their college professors, they decided to create Smathers & Branson soon after their graduation. At first, it was a little bit tricky to find proper artisans but the company decided to outsource the work to Vietnamese manufacturers. Smathers & Branson now defines their mission as: "to offer the finest products with customer service to match" and one has to admit that this goes very well with the behavior of the brand. From the very beginning, the goal of their eCommerce project was to deliver the highest quality products with the highest efficiency. And it worked.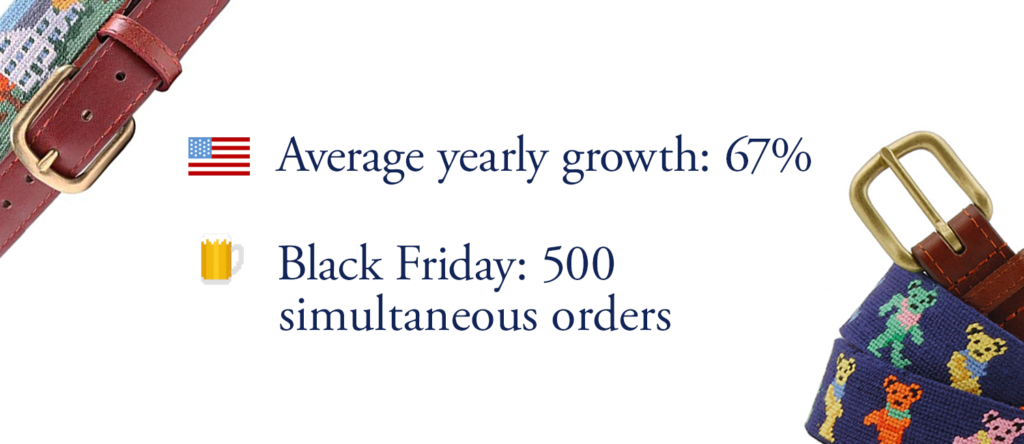 S&B has around 50 employees in their HQ at Bethesda, Maryland, US. Their line of belts, wallets, key fobs, and other accessories is now found in roughly 1,800 locations nationwide. The company boasts an average growth rate of 67 percent year over year, while Presidents George H.W. Bush, Bill Clinton, and George W. Bush have all been spotted in their American flag belts.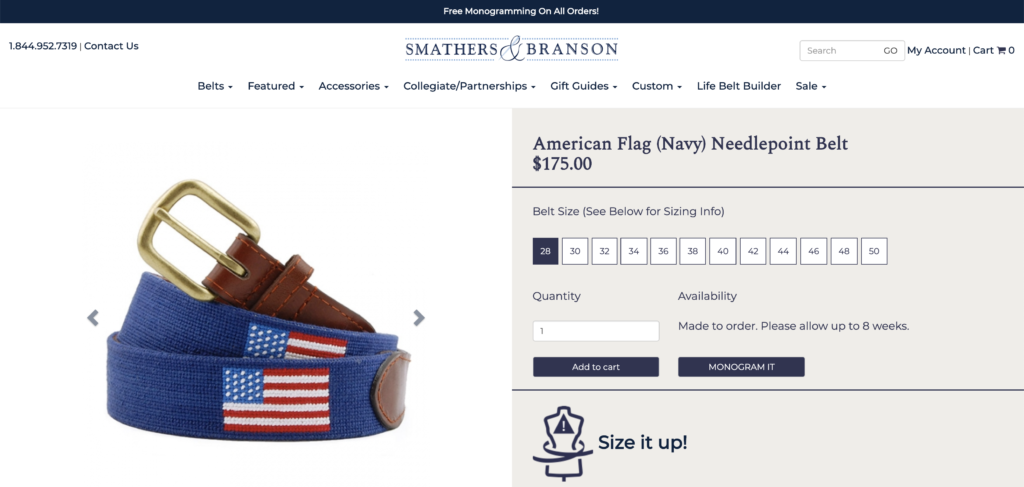 With all of those successes at hand, Smathers & Branson initially decided to trust their eCommerce platform to Lemonstand – a SaaS product. Nevertheless, this solution quickly started to show its limitations. The business grew so much that the solutions proposed by this non-existing vendor nowadays seemed to be not enough. 
Behind the scenes of the migration
The implementation of the new eCommerce platform has been commissioned to iTristan Media Group, now our Sylius Solution Partner, and the agency opted for Sylius. Why? Well, the main problem with the previously chosen platform was connected with its lack of scalability and a small range of customizations. For iTMG it was clear that the next platform had to be scalable, growth-oriented, and ready for customizations. Hence, Sylius was chosen.
The whole process of migration from the beginning to the go-live took our Partner 9 months. The implementation of Sylius is described by iTMG as easy to predict and well-structured thanks to the Symfony framework. Sylius was used as the heart of this eCommerce project and the integrations played a huge part in it.
When it comes to the integrations, Smathers & Branson initially tested integrating Lightspeed as their POS and inventory management but settled on Quickbooks POS. As a living, iterating platform, the system has been updated, extended and improved over 20 times, always without any problems. To analyze data, the company decided to use the most popular solution – Google Analytics. As a payment service provider, S&B uses Authorize.net gateway backing onto US Bank merchant services. 
As the growth, stability, and sales continued, additional integrations were added to further help scale. Klaviyo email marketing platform, Avalara tax compliance calculation platform, and Shipstation shipping and fulfillment platforms were integrated as automated parts of the Smathers & Branson Sylius ecosystem, to further enhance their 24/7 boost to workflow and product sales and delivery capacity. iTMG added automated inventory quantity on hand awareness were given a huge boost with the addition of a QOH Reconciliation bot to warehouse logistics to ensure that the shipping team was acting only on orders that were fully available on a single screen with links to carriers and shipping ordering all at once – boosting productivity so much that they were able to grow 30% without needing to hire a single staffer and still save 500 hours of labor.
Wholesale B2B customer channels was a significant consideration in planning this re-platforming project. Smathers & Branson maintains a large part of their client base selling to distributors and retailers. They needed to cultivate a buying experience specific to B2B buying needs. Sylius, again, with its flexible framework model, gave iTMG the freedom to focus on channel user experience first. Unique buyer-account awareness, user interface, terms, and checkout were all tailored to live alongside the more standard B2C retail eCommerce experience.
What is also worth mentioning, is that Smathers & Branson has decided to introduce the possibility to customize clients' orders with a special app in which everyone can design their own needle belt. It works very well with Sylius Platform thanks to its native configurable product feature and is still very popular among the S&B audience.