After securing one of the most significant Sylius Plus projects together, and winning a few other relevant customers in France, we have decided to form a strategic partnership with this experienced eCommerce agency.
Sylius in France
Thanks to the Symfony origins, Sylius is especially popular in France. Some people have been asking us for around two years when would we open our first French office with native representatives. Well… Give us some more time. 😉
We can see all around us that France is THE market for us – the biggest Open Source community, the largest number of Partners and Customers, and other people & companies related to Sylius are based in France.
Have a look at these numbers that I've gathered for this blog post:
~800

– Production websites according to BuiltWith and our internal stats (the half of all tracked live Sylius projects)

~200

– French companies in our CRM

7

– Solution Partners of all types – Professional, Premium, and now Leading

150+

– Active developers on the #french Sylius" Slack channel (the most popular among regional ones)

1st

– Hosting Partnership we have signed – (Platform.sh, HQ in Paris)

5-10

– Quality leads we get from France every week

~14.000

– New unique users of sylius.com in 2019 from France, which is the biggest group per location (~16% of all – to compare, Poland is on the second place with ~8%)
I'd like to add there are 1000+ developers on the #french Symfony's Slack channel that might potentially already be or soon change to Sylius users.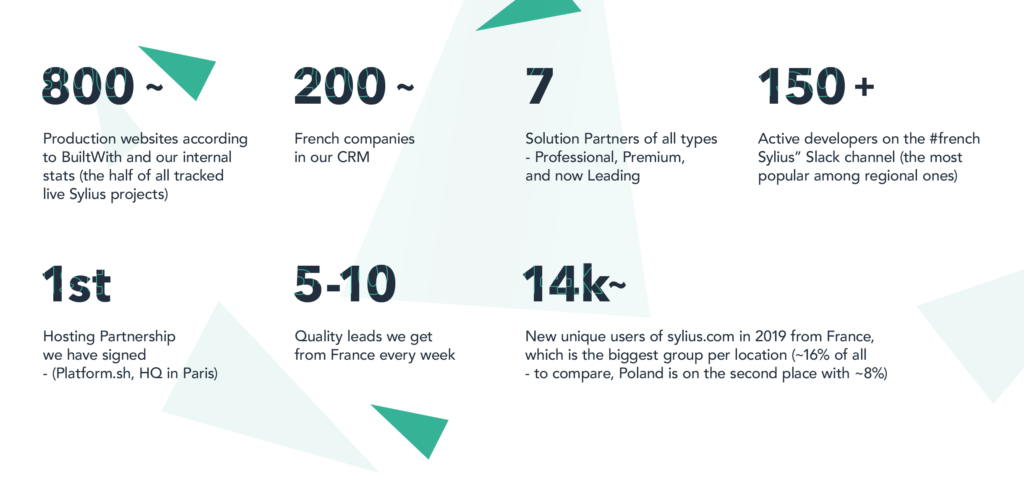 Partner-based business approach
Exactly a year ago, I had a pleasure to have a discovery call with Pascal Brunel, the CEO of Synolia. From the very first e-mail, they looked like a great agency to collaborate with – already partnering with big eCommerce platforms' vendors like Magento, OroCommerce, and PrestaShop.
Synolia is also in close relationships with other significant technology companies whose products are complementary to Sylius – CRM (Sugar, HubSpot, Oro), PIM (Akeneo), BI (Qlik), CS (Zendesk), Marketing Automation, etc. See their partner base for yourself!
We knew back then that Synolia wouldn't bring only the eCommerce experience to our Ecosystem, but also everything around it that modern online merchant needs.
In April, the 8 great Synolia's developers got trained by Mateusz, our Trainer and Sylius Core Team Member. Soon after that, we announced the partnership. It turned out Synolia has already started the development of an exciting fit diet box delivery project, Belenvy. It's a part of Tourpagel Group, a national leader in food shopping at home.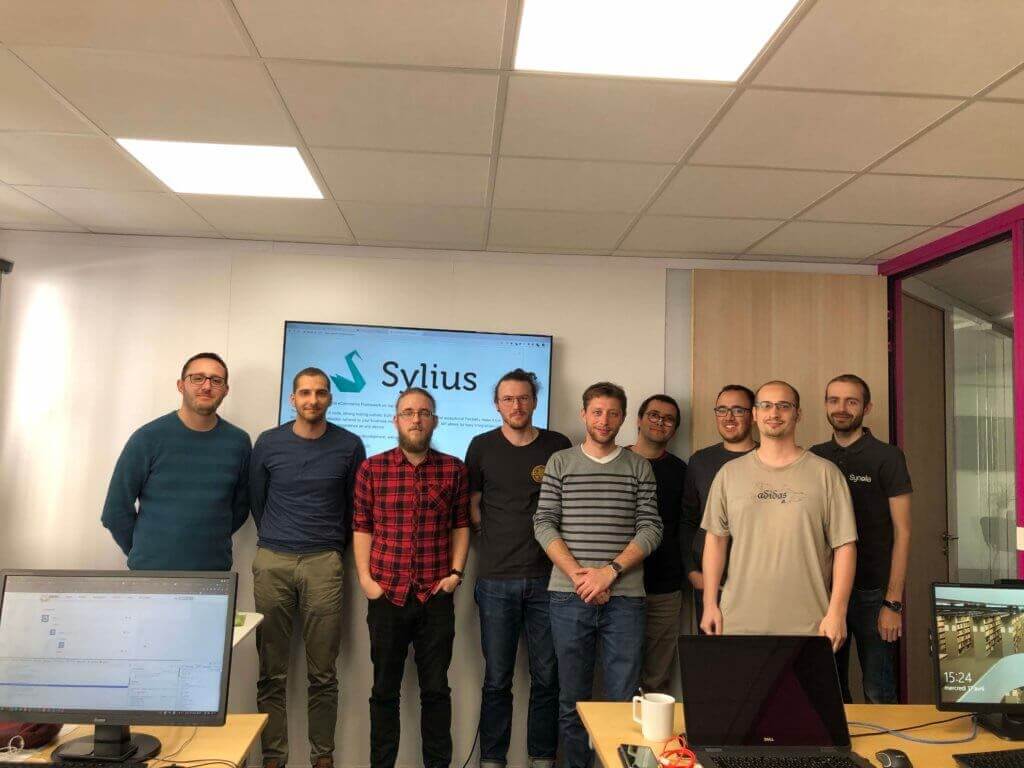 Sylius Scheduler Plugin and community engagement
Ever since the training, we've noticed a huge enthusiasm and Community involvement from Synolia's Lead Developer, Olivier. In 2019, he presented Sylius on AFUP Bordeaux meetup and Forum PHP (the most prominent French PHP conference with 700+ participants). His talk can be found on YouTube as well.
It was a matter of time when Olivier and his teammates delivered the first Open Source extension. Sylius Scheduler Command Plugin allows for easy setup of the most frequent Symfony commands you use in your daily work on Sylius. As Mateusz said, when he reviewed the code: It's probably one of the best-written Sylius extensions I have ever seen. The highest quality of code, perfect BDD & testing implementation… And a very useful functionality itself!
With Olivier on board, we are sure about the quality of other plugins to come… Psst, Synolia's second extension has actually just been tagged. 😉
Building the market & ecosystem together
So, what has pushed us towards forming the leading partnership? All of the above, four ongoing Sylius Plus sales processes, and the biggest ever commercial Sylius project ever – won together with the awesome Synolia team.
I'm happy to confirm that thanks to a great collaboration with this strategic customer and Synolia, the development of the official Sylius & Akeneo connector has been scheduled. And this is just one of many great things that are coming along!
There's a new opportunity for our companies popping up almost every week. We have a great synergy not only as businesses but also as human beings. Part of the deal is a joint translation of sylius.com to French. 🇫🇷
On February 12th, we are visiting Synolia's HQ in Lyon to plan the first year of this exciting cooperation.
Brace yourself, France. Sylius is coming!