Summer is here! As the temperature rises and the days get longer, the team at Sylius has been working hard. In this blog post, we'll dive into the latest updates and developments from Sylius, the open-source e-commerce framework that continues to empower businesses worldwide. From recent meetups to performance stabilization, we've got a lot to cover, so let's get started and explore what's new at Sylius this month!
New leadership at Sylius
June brought a major change at Sylius. Mikołaj Król became the new CEO, overseeing the partner and client ecosystem, community, sales, marketing, and product strategy design. Damian Murawski stepped in as a COO, responsible for cultivating a strong internal culture, strategy execution, and handling various day-to-day operations internally. Paweł Jędrzejewski will remain as the Head of Product, continuing his excellent work in further developing our product. You can read all about Sylius' new chapter in our recent blogpost.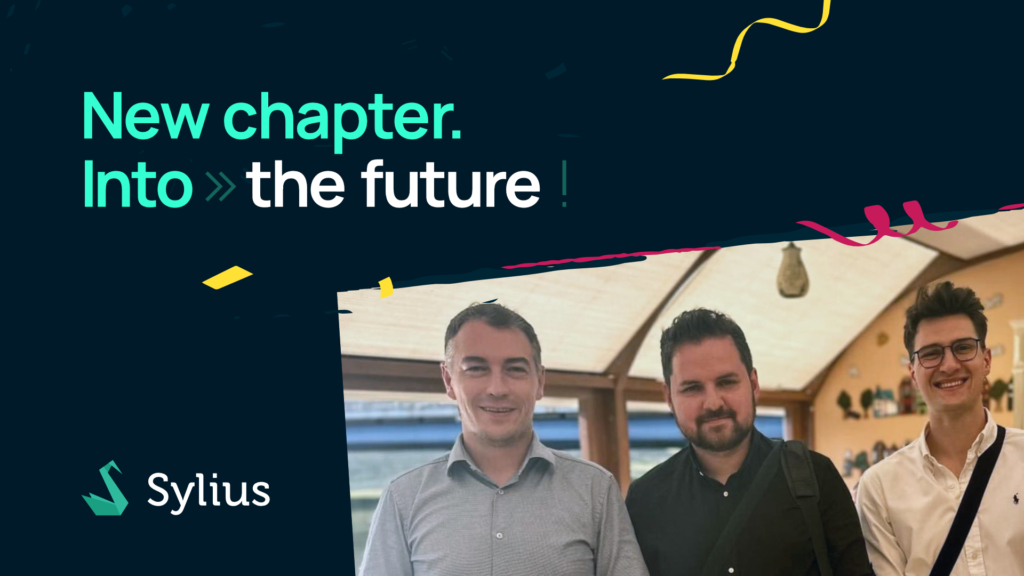 Sylius-based website awarded by Awwwards
Studio Waaz, our Professional Solution Partner, launched a new Sylius-based project and received an honorable mention by Awwwards! Maison Deuza is an ecommerce website that blends timeless elegance with cutting-edge technology. Look out for a case study — it's coming soon!
SyliusBootstrapTheme upgraded
Congrats to Olivier Allain from Synolia and Dawid Frankiewicz from BitBag for upgrading the SyliusBootstrapTheme. The package just received a fresh tag and is compatible with the recent Sylius version. To many, it could be a great starting point for building custom storefronts!
Plugin updates
Last week in Toulouse, Loïc – our Core Team member, released a new alpha version of Resource Bundle. Despite providing many minor and major fixes, Loïc focused on autowiring improvements and providing a new attribute-based resource declaring mechanism. In other words, working with Resource Bundle will become easier and more the "Symfony way".
Once again, we're getting even closer to the Symfony's ecosystem. This time (also thanks to Loïc's efforts) we took the fixtures to the workshop. We fully moved away from our custom solution towards Sylius Fixtures Plugin for Foundry. Thanks to that, we achieved a more standardized, easier to work and extend fixtures system. If you want to test the new Sylius Fixtures Plugin, take a look at the akawakaweb/sylius-fixtures-plugin repository.
Sylius on the road
Sylius' CEO, Mikołaj Król visited Germany where he took part in the 20th anniversary of our long-term partner, infolox GmbH, and attended many exciting speeches at the annual Infoforum the company hosted. It was exciting to talk to other partners like Netgen or Y1, gather feedback, and share our vision of what comes next in Sylius' ecosystem.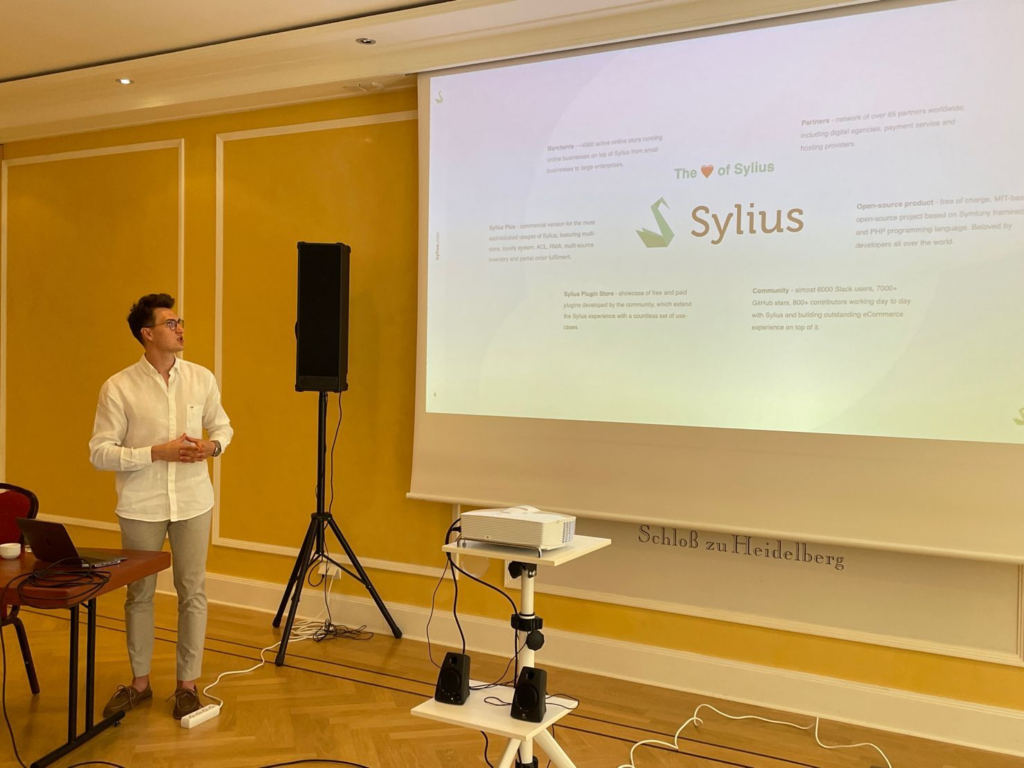 There were also two great meetups happening in Berlin, Germany and in Toulouse, France. On June 19th, BitBag organized a Sylius German Community Meetup with great speakers: Mikołaj Król, Konrad Alfaro, and Łukasz Chruściel. Three days later, Sylius Meetup in Toulouse took place with talks by Mateusz Zalewski, Loïc Fremont, Mathias Arlaud, Loïc Caillieux and Sébastien Lourseau.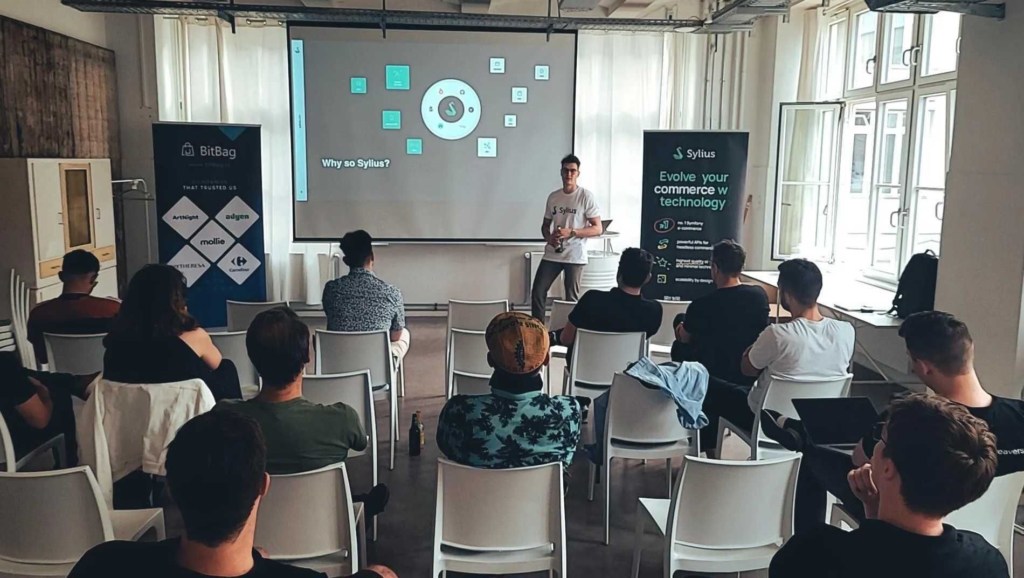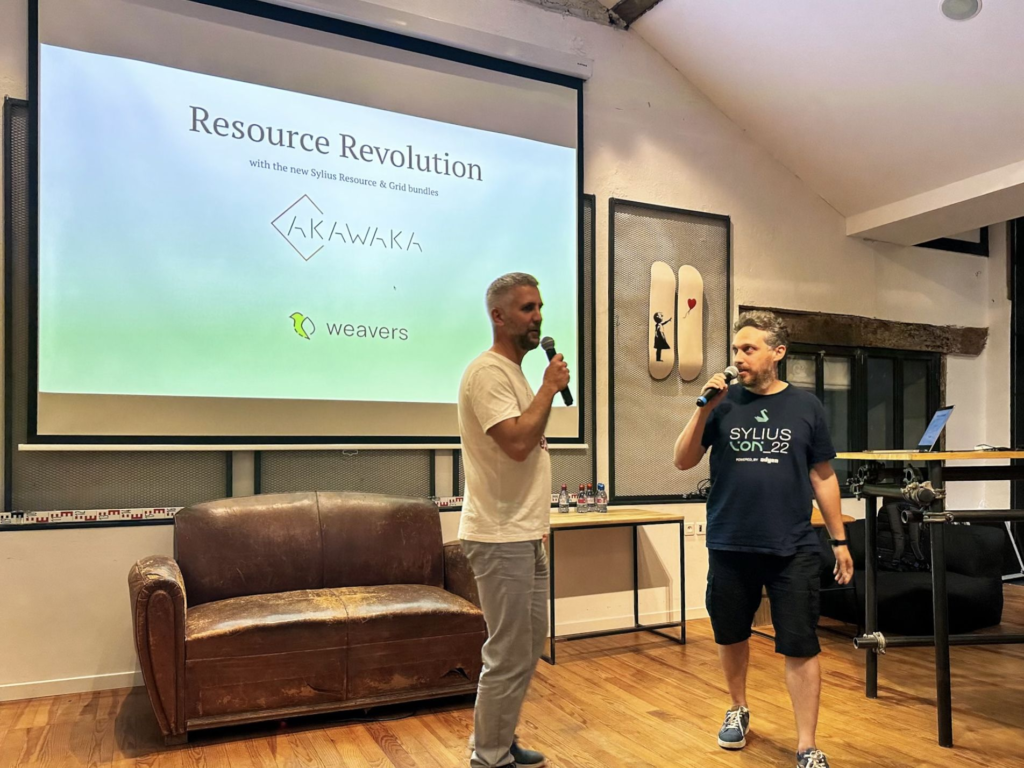 Development team working hard
Behind the scenes, the development team at Sylius has been working tirelessly. We successfully reduced the number of open pull requests to 70 and we're hoping to improve our efficiency even more. The team has also focused on stabilizing the Plus version, addressing bugs reported by the awesome Sylius community. Some of the most key improvements are:
You can also soon expect a new version of our roadmap. Stay tuned as Sylius unveils its exciting plans!
New DACH-focused Partnerships Manager joins Sylius
We've got a new team member on board! Krystian Florek joins Sylius as a Partnerships Manager for DACH region. Krystian has extensive experience in ecommerce industry and speaks German and English fluently. If you're based in a DACH region and would like to talk about your ecommerce project, reach out to Krystian via Slack or LinkedIn.
Summer sale available for Sylius online course
There's no better time than summertime to get started with Sylius! A 10% discount is now available for the Sylius online video course. Within just 9 hours, you will learn how to use the most modern eCommerce Framework for PHP and build a functional webshop.
That's all, folks! If we missed anything, don't forget to contact Mikołaj on Slack and we'll feature your accomplishments in the next update!