Salut, Sylius enthusiasts! August has been an action-packed month for us. Even though August is generally considered a holiday month, many great things have transpired. We're thrilled to provide a recap of all the exciting developments. Let's dive right in!
Sylius Days
We're delighted to announce the lineup for Sylius Days and remind you about this upcoming event. Sylius Days is not just another event — it's a gathering of individuals eager to broaden their horizons within the Sylius ecosystem. This is the last call to grab your free ticket and participate!
Scheduled for September 8th and 9th, Sylius Days will feature a range of informative workshops led by renowned experts:
Saturday, the 9th, is reserved for a hackathon focusing on plugin development, theme creation, and core contributions. The hackathon will culminate with presentations featuring influential speakers like Mikołaj Król, Przemysław Ptasiński, Thibaut Arnoud, and Ksenia Zvereva.
A huge thank you to our sponsors: Mollie, Smile, BitBag, Les-Tilleuls.coop, and SensioLabs for amplifying our mission to strengthen the Sylius community.
SyliusCon
SyliusCon, the premier event for e-commerce enthusiasts and Sylius platform users, is preparing for its second edition in Poznań. This event promises valuable insights from expert speakers and numerous networking opportunities. To get a feel for the event, you can watch past recaps. Early bird tickets went on sale on August 21 and are known to sell out quickly. Secure your spot and join us in Poznań for the future of e-commerce!
Join us again on November 3rd in Poznań, Poland, for SyliusCon 2023! Early bird ticket sales end today, so hurry to grab yours at a 50% discount. Stay tuned for speaker announcements next week!
New Sylius Plus Module – B2B 🤝 💼
This month, we also released the first stable version of our new Sylius Plus – B2B module. This module features many advanced functionalities such as organization management, multiple pricing lists, quick shopping, import/export module, and advanced search capabilities. We will publish detailed information shortly on our website and social media channels. If you're interested in a demo or more details, contact us; we'll reply very quickly!
1.12.10 release 🎉
This month, we released a new version of our project, numbered 1.12.10. You will find the following improvements:
We recalibrated the mechanism for adjusting order totals to automatically recalculate the total amount whenever an adjustment is added or removed. We also updated the installation guide for Sylius Plus to reflect the latest changes.
To improve the user experience, we fixed rendering issues in the admin creation form when errors occurred. Further, we abstracted out the ShopBasedCartContext::reset function to an interface for greater flexibility and consistency. Code refactoring was done to enhance clarity and developer experience.
In terms of tax calculations, we now cover order item units-based tax calculation strategy with detailed scenarios. This should help with more accurate tax reporting. To enhance localization, we made sure to avoid displaying taxon names inside of autocomplete fields in languages other than the store's default locale.
We also added conflict settings for specific versions of Doctrine ORM (2.15.4 and 2.15.2 and higher) to prevent compatibility issues. Payments removal functionality was extracted from OrderPaymentProcessor to make it more modular. The Readme banner was also refreshed for better readability and presentation.
Rounding issues concerning percentage discounts have been fixed, and this should make discount calculations more accurate. We also updated our documentation to provide clearer guidelines, specifically the sections on order processing information and catalog promotions.
Comments from the previous version were carefully reviewed and resolved, particularly concerning the percentage discount's decimal rounding issue. From a maintenance perspective, we removed deprecations from the OrderPaymentProcessor to keep the codebase clean and updated.
Minor mistakes in Behat scenario names for receiving discounts according to promotion priorities were corrected. Furthermore, we now allow the installation of specific versions of Doctrine ORM (2.15.*), providing more options for developers.
For those using catalog promotions, we fixed issues related to configuring the amount for fixed discount actions. Lastly, we addressed styling issues that appeared after a coupon form submission failed, ensuring a more consistent user interface.
The full release note can be found here: github.com/Sylius/Sylius/releases/tag/v1.12.10
Besides, we also continue our mission of decreasing the number of opened Pull Requests, fixing bugs, and preparing for the 2.0 launch, which is going to be awesome, believe us! 💪
Inspiring social media mentions
Imad ZAIRIG and Stephan Hochdörfer have shown that big or small contributions fuel the heart of open source. What do they say about Sylius? Check it out yourself!
– Stephan Hochdörfer's LinkedIn Post
Most active external contributors
At this point, it's worth highlighting the most active contributors whose Pull Requests we've managed to merge in the past month. Kudos for your input; keep on rocking! 🤘
Sylius project as part of a podcast
Mariusz Gil, a highly regarded Polish PHP and architecture design specialist and influencer, recently hosted Łukasz Chruściel, our Core Team member, on his podcast called Better Software Design. The episode delves into the complexities of software development, particularly the role and challenges of domain experts. Łukasz shares his years of experience from the Sylius project, emphasizing that best practices need to be adapted according to specific contexts. The podcast is in Polish and available on Spotify.
Featured blog posts
Our long-standing partner, BitBag, shared their vision of benefits and features behind our commercial product, Sylius Plus, in a comprehensive blog post. Besides, BitBag also published a tutorial on how to build a blog using their famous CMS Plugin in any Sylius online store. Check it out under this link. Stephan Hochdörfer also published a blog post about syncing payment state with Sylius invoice. Read it here! Thanks for sharing!
Announced Sylius project victories ✌️
Groothandel Solar – a fantastic project leveraging the powers of Sulu CMS and Sylius
We're excited to share that the new website for Groothandel Solar is now live! This successful project was led by Rachel Snijders, the Head of Development at Groothandel Solar and Stackage.nl. The site is built on our Sylius framework, offering a robust e-commerce solution, and also utilizes Sulu CMS within the Symfony framework. Check the project live at groothandelsolar.com
ilicut by Synolia – An elegant synergy between Sylius, Qlik, and Zendesk
We are thrilled to spotlight one of our exemplary collaborations, made possible with the expertise of Synolia. They've flawlessly tailored our e-commerce platform for their client, ilicut, a specialist in the realm of custom wood panels. Synolia's choice to utilize Sylius underscores our platform's flexible foundation, tailored for specialized developments and ensuring a pristine, user-centric experience. Paired with Qlik Cloud for Business Intelligence, Synolia has effectively met the majority of online sales management challenges, showcasing the adaptability and strength of our combined solutions. Detailed case study can be found on Synolia's website.
Mofakult by Fusonic – A remarkable integration of Angular with a PHP/Sylius/Sulu Backend
Mofakult AG's new online shop was crafted to excellence by our esteemed partner, Fusonic. Utilizing state-of-the-art technologies like Angular, PHP, Sulu, and Sylius for the backend and turbo-charged with Kubernetes, Elasticsearch, and Varnish, this is one of the fastest and most advanced e-commerce platforms out there. The project epitomizes years of intricate planning and hard work on various fronts – from process definition to interface development and optimization of all software components. Kudos to everyone involved for elevating the e-commerce experience. Check it live at mofakult.at.
Domotio by BitBag – A migration success from WooCommerce to Sylius
Domotio, a Polish SME specializing in universal lighting solutions, sought to consolidate its online presence by migrating from WooCommerce to a unified Sylius platform. The extensive project involved product and content migration with SEO continuity, a complete visual redesign, and multiple system integrations, including Google ecosystem and CRM. The outcome is a secure, scalable, and user-friendly platform that enhances both customer experience and backend management, effectively setting the stage for Domotio's future growth. Read the full case study on BitBag's website:
Special thanks go to all our partners, especially Synolia, Fusonic, and BitBag, for trusting us and demonstrating the versatility of Sylius in diverse scenarios! 🙏
OpenMarketplace 2.0 release
BitBag has unveiled OpenMarketplace 2.0, a major update to their open-source, multi-vendor eCommerce engine built on Sylius. This release features key architectural changes that align closely with Sylius, introducing new components like Messaging for admin-seller communications and Orders for simplified multi-vendor checkout. With the addition of a Core component for easy integration with Sylius and Symfony, OpenMarketplace 2.0 offers a scalable, budget-friendly eCommerce solution. For a detailed overview, visit BitBag's blog.
In-house News
New marketing updates
As we move into September, we're preparing to launch innovative marketing strategies. Stay connected with us on LinkedIn, Facebook, Twitter, and Instagram! Additionally, let's give a warm welcome to Patryk Baczewski, our newest member of the marketing team! 🙋‍♂️
FashionWeAre event participation
We recently had the pleasure of attending a fashion industry fair in Łódź. Our presence was made possible thanks to an invitation from our partners at BitBag, where we had the opportunity to represent Sylius. Over two days, we spoke with representatives of B2B companies, advising on how we can assist in developing their businesses. Additionally, the fair gave us a chance to meet many friends from the tech industry. Representing Sylius at such events always fills us with pride and optimism. We hope that this time will lead to new collaborations and that we will have the opportunity to participate in an even greater number of similar events in the future.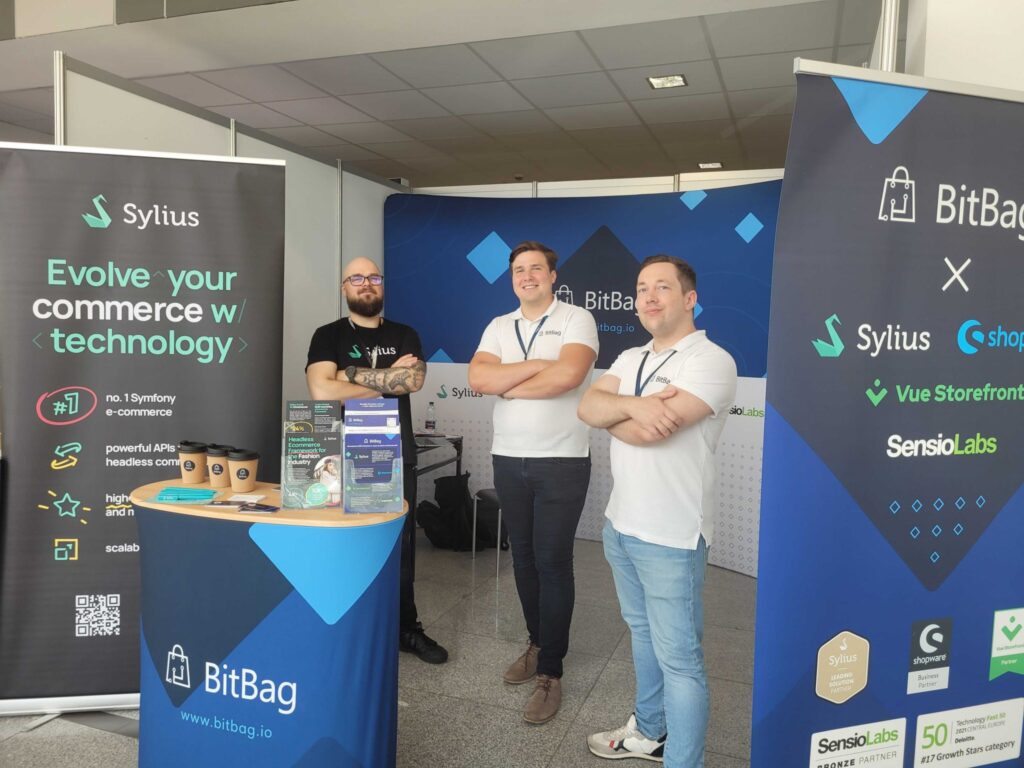 Updated About Us page
In addition, we've also updated our 'About Us' page to feature the talented individuals who make up the Sylius team as well as our outstanding Core Team contributors. The page serves as a spotlight for those who have been instrumental in shaping Sylius into what it is today. Get to know the people behind the project by visiting our website: sylius.com/about
If we did miss something, feel free to let us know! Here's to another successful month with Sylius! 🥂