What is Artifakt ?
Artifakt was launched in 2017. 30 talented people are working on a daily basis to help developers and enterprises deploy, host and manage their web applications on scalable and resilient cloud infrastructure. At the end of 2020, we raised €3,7 million (Serie A) to help us accelerate and leverage our growth in France but also in Europe.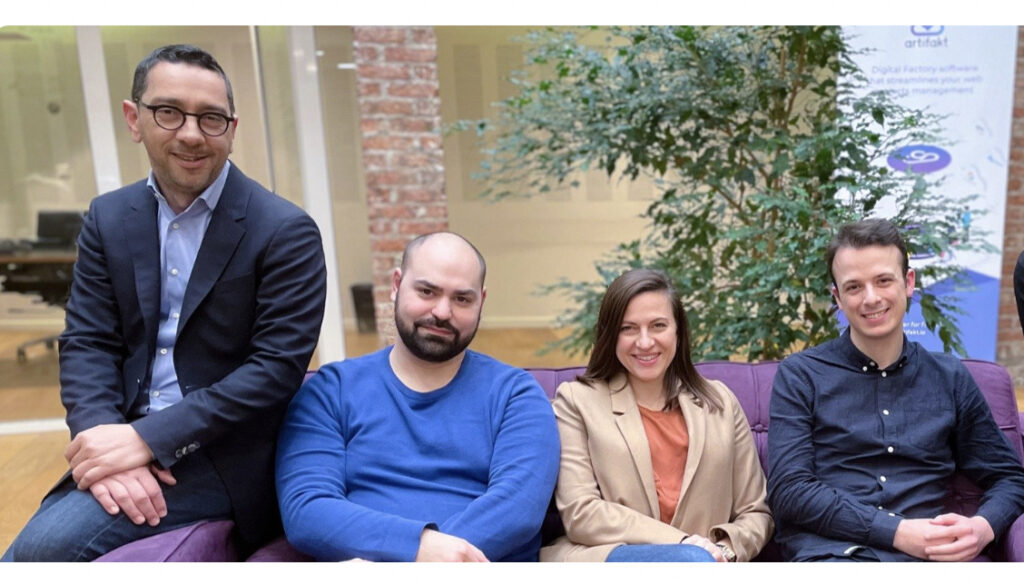 What Artifakt does
First, let us tell you why we created Artifakt. The story begins with our CEO – Aymeric – when he was CTO of a well-known French web agency specialized in eCommerce. Aymeric was tired of repetitive devOps tasks and pretty frustrated by the options traditional hosting companies offered. So, he started developing a tool to automatically build and deploy environments in the Cloud with all requirements embedded.
Artifakt provides the best web hosting platform for eCommerce websites and at the same time offers developers and web agencies the perfect PaaS (Platform As A Service) to deploy and manage all their web environments.
The Artifakt PaaS is a ready-to-use, industrialized product built for (and with) our partners and clients. Everything is embedded: security, scalability, performance layers… No matter the prerequisites, Artifakt is taking care of everything.
If we have to make a parallel with the automotive industry, instead of buying spare parts and trying to build your own car, you should lease a fully produced car directly from the dealer.
If you want to know more about us, just ring a bell. We do more than that.
The partnership with Sylius
We are thrilled to join the Sylius community, as we officially launched our partnership in September 2021. From the beginning, we had the feeling that it was pretty obvious to work together. We share a common strategy to expand in France, but also in Europe.
Last but not least, we are on the same page about how we can work together. Our Engineering team is focused on that mission, and we will soon be able to offer Sylius offerings based on Kubernetes and Docker, available all around the world.
Sylius – Artifakt: What is it?
A ready-to-use Sylius hosting platform validated by the Sylius team: security, performance, alerting, scalability, teamwork management – all included!
The Artifakt console to deploy and monitor your environments. You can work more efficiently, in full autonomy, and have a single point of truth about your infrastructure.
A series of joint marketing initiatives to promote Sylius and Artifakt (something's cooking… :)).
Being an active member of the Sylius community and helping the ecosystem grow.
2022 is going to be an exciting year. Stay tuned!
Check the pre-configured Artifakt environment for Sylius!
We'll send you directly to the Artifakt solution for Sylius.
Why Artifakt?
The vision we share is that cloud computing has reached the necessary stage of industrialization. The answer can no longer be "Please open a ticket.". Business and technical teams must be able to work hand in hand, with finished products and a tool that helps manage it all. This is why we created Artifakt.
If I take the parallel with the automotive industry again:
you choose your default car model;
you can, of course, add more options (even do some tuning!);
you have the car ready in a few minutes;
on your dashboard, you have the full list of metrics to manage it all;
Your car is under warranty and automatically updated (weekly updates).
Rationalization, flexibility, security, time-saving and expertise are all part of it.
Try the Artifakt demo now