Always reply… to Portaltech Reply
Do you know that Portaltech Reply GmbH was one of the first companies that had contacted us regarding partnership before we even launched the official Solution Partner Program (Q1 2018)? You don't? Don't worry, we also didn't. Back in August 2017, we were in the phase of rapid startup growth, focusing on the Sylius v1.0.0 stable release and did not realize how big an opportunity it was. We simply missed the message in our mailbox.
Luckily, we haven't let it slip. 2 years later, in April 2019, when cleaning our CRM pipeline, I stumbled upon some old lead. When I did some research, I couldn't imagine we had never replied. Shortly after I dropped a message, I got a short, but fantastic reply (sic!): Yes, we are still interested.
This is how the story starts. From one call to the other, we decided to meet up at our HQ in Łódź, Poland in September and started planning one of the greatest partnerships that our children would read about in the history of eCommerce (to be published one day)… 😉
When experience meets innovation
Reply is a gigantic consulting & web development group you can even find on Wikipedia. In 2019 Reply had revenue of €1,182.5 million, over 8.036 employees and more than 30 offices all over the world. Within the network, there are many business subsidiaries. One of them is Reply AG with Portaltech Reply GmbH being the e-commerce specialist.
Portaltech consists of 65 people based in 4 offices all over Germany (Bremen, Hamburg, Berlin, and Munich). They have successfully co-designed over 150 enterprise projects with Akeneo PIM (one of two Gold Partners of the solution in Germany), MAM/DAM with Celum, e-commerce with Sylius, Shopware and Magento and CMS with TYPO3 and Storyblok.
As part of the Reply Digital Experience, our Partners ranked number 1 among the German digital agencies in the BVDW ranking 2019, making it one of the most successful e-commerce service providers in Germany.
Portaltech has developed a special position with sustainable platform strategies and reliable statements about time and budget. The partnership-based cooperation with customers and service providers is impressively reflected in the retention rate (customer loyalty & satisfaction), which is well above 90%.
If we connect nearly 200 DACH companies in our CRM, including 6 other Solution Partners and complementary to eCommerce technology providers (i.e. the payment or hosting solutions) with Portaltech's impressive business network, we get a significant potential to grow on the market together. Old industry lions and hungry tech tigers sound like a good mix of experience and innovation, right?
Besides the portfolio, what matters in a good partnership, is a synergy on a personal level. Fortunately, our new German Partners are also cool people. We felt great understanding from the first moment of the conversation. Just see our smiles below.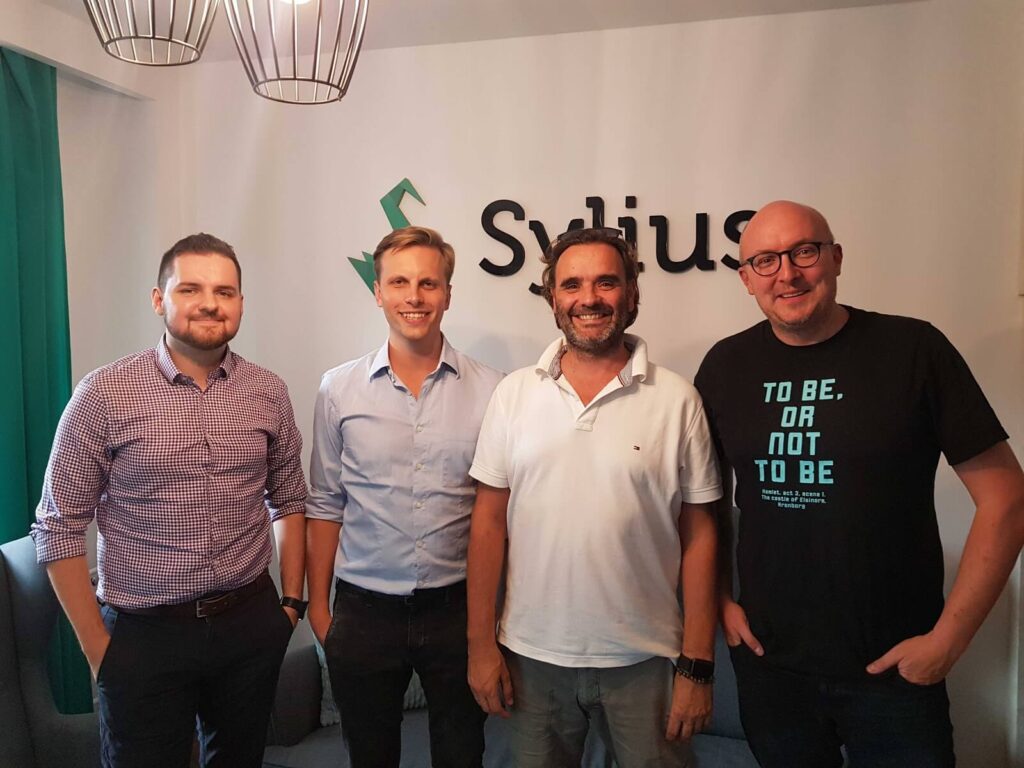 Adapting Sylius as a strategic move
The partnership with Sylius represents a further step in the expansion of the company's product portfolio. Portaltech Reply is known for the implementation of complex enterprise e-commerce projects. To this end, Portaltech has early relied on Symfony as the leading open-source framework in PHP development, which is also the base of Sylius.
"Sylius as a complete Symfony system represents a tailor-made expansion of our portfolio. Portaltech therefore can offer the right system for every type of customer, industry, and requirement."

– says Marco Klawonn, Managing Director of Portaltech Reply.
In current projects, Sylius plays a central role as a technical application core. In these scenarios, Sylius and other systems are "headless" – connected to various frontends via an API and operated within Kubernetes as an automatically scaling e-commerce system in the cloud. This technical approach perfectly aligns with our Best of Breed philosophy and current integration with API Platform.
The company enters into partnerships characterized by absolute transparency with its customers and uses its equally special connections to the technology providers – to which Sylius now belongs.
In the upcoming years, Portaltech wants to build its position as the first-choice agency for enterprise Sylius projects in DACH countries. How are we planning to achieve that together?
Very close and open collaboration based on trust;

Introduce Sylius to Portaltech's network, including big PIM leads (Akeneo);

Do joint presentations on the most popular industry events like DMEXCO;

Grow the Sylius community in Germany (I already had a chance to attend

Vue.JS Barcamp Berlin

in October thanks to Portaltech's invitation).

Delivering a bunch of Sylius plugins, especially with Payment Solution Providers popular in the region like HeidelPay;

Contributing to Sylius' core and key integrations like Akeneo and API Platform;

Develop Sylius skills – the team already got trained in Bremen a few weeks ago.
You can already check Portaltech's Partner profile here.
To be continued: The Customer that changes it all
Within a month from our first meeting, the first amazing opportunity for a joint Sylius project popped up. The Customer is known by young and old, not only in DACH countries. The goal is to develop probably the biggest marketplace for food producers ever created. After just 6 months, the development began in March… But more about this in a separate blog post coming soon. 😉