We are thrilled to announce the new Sylius plugin store (and more!) has finally gone live. Just before we open the champagne, we thought it'd be great to hear from the main architect of this change – Mateusz about the story behind it.
Mateusz Zalewski is a long-time Core Team member and our main Trainer with a passion to share knowledge about the Sylius e-commerce platform to the world.

Currently, he has just finished developing the new Sylius Store, in order to come back to one of his favourite professional activities – enhancing Sylius' architecture and its plugins system. But before that, let's talk with him about the details of this ambitious project.
Sylius Store origins
Aldona: Hi Mateusz, how are you feeling about the go-live of Sylius Store 1.0?
Mateusz: Hi Aldona, there's a bit of stage fright, but in general I'm thrilled to see this project live.
A: Could you tell us what was the reason for changing the store?
M:
🙃
But seriously, the first Sylius Store was a proof-of-concept that unexpectedly worked out and therefore we didn't want to resign from it especially, when we were fully loaded with working on our products. 
A: A proof-of-concept? Could we stop here for a moment?
M: Of course. The original Sylius Store was a simplified shop for community-built plugins and the online course. Our e-commerce platform only provided the checkout, whereas the plugins list was served by our WordPress-based, sylius.com website. 
A: Alright, but if it worked, why change it?
M: Yes – on one hand, on the other one though – it resulted in two different data sources with plugins (Store and sylius.com), and the risk of desynchronization was very real. Moreover, we could neither customize nor automatize to the extent we'd like to, so we had to create a new one. 
New Sylius Store
Take me to the Sylius Plugin Store
Fully operational Sylius-based e-commerce platform
A: And now?
M: Well, first of all, we finally have a Sylius-based e-shop, that we can maintain and operate on. Our heads are full of ideas about what can be implemented…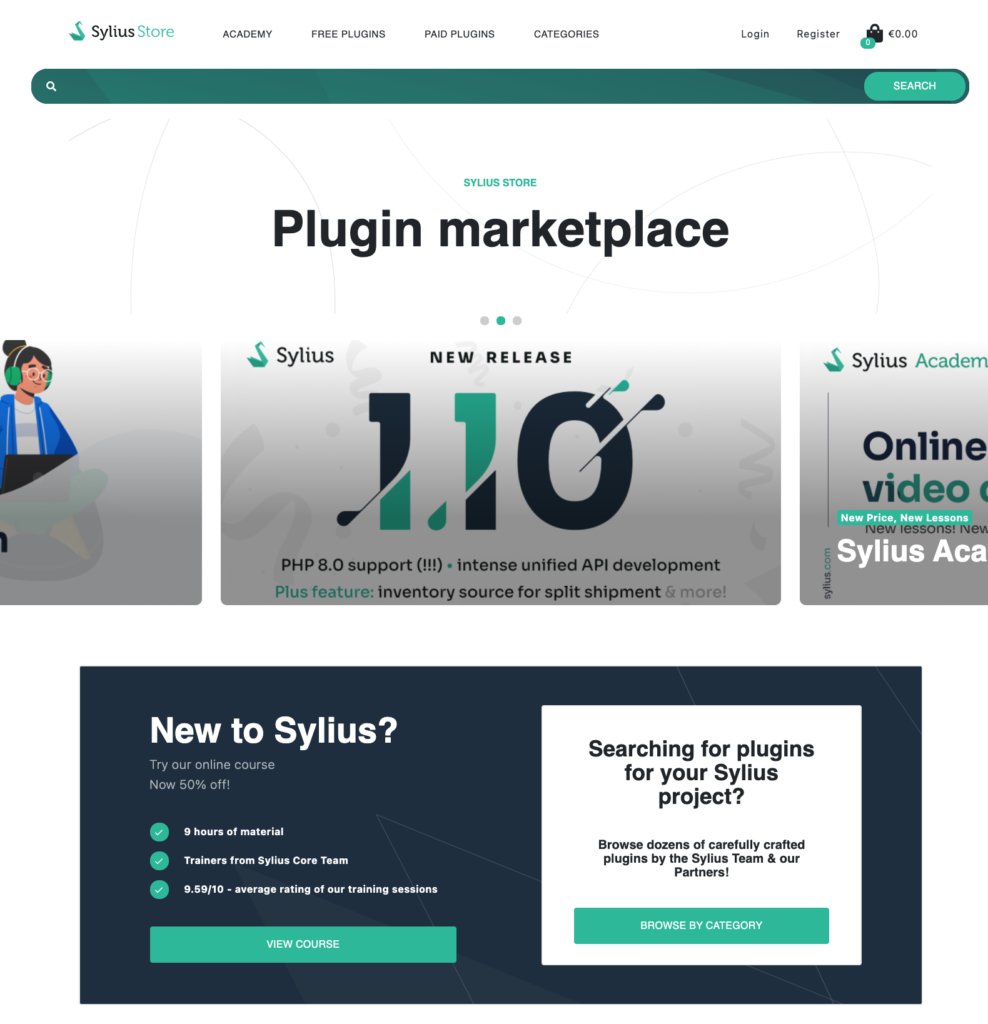 A: Sounds really promising! And what can we expect from the Store now?
M: On top of everything, it is a full Sylius-based application, prepared for future use beyond plugins and courses. As a result, Sylius Store 1.0 can provide us a lot of feedback about our own platform being "battle-tested".
From yet another perspective, we want it to always be the first live online shop upgraded to the newest Sylius version to eat our own dog food before we publish it. Right now, we use Sylius 1.10, whereas the old store could not get above v.1.7.
The power of community plugins
A: Okay, and moving to the features – have you used any interesting plugins for this project?
M: Sylius Store 1.0 is a live example of the ecosystem power, to be sincere. We used Sylius Banner Plugin by Odiseo, Sylius Maintenance Plugin by Synolia, Sylius Search Plugin by Monsieur Biz and last but not least – Sylius Terms Plugin by Setono.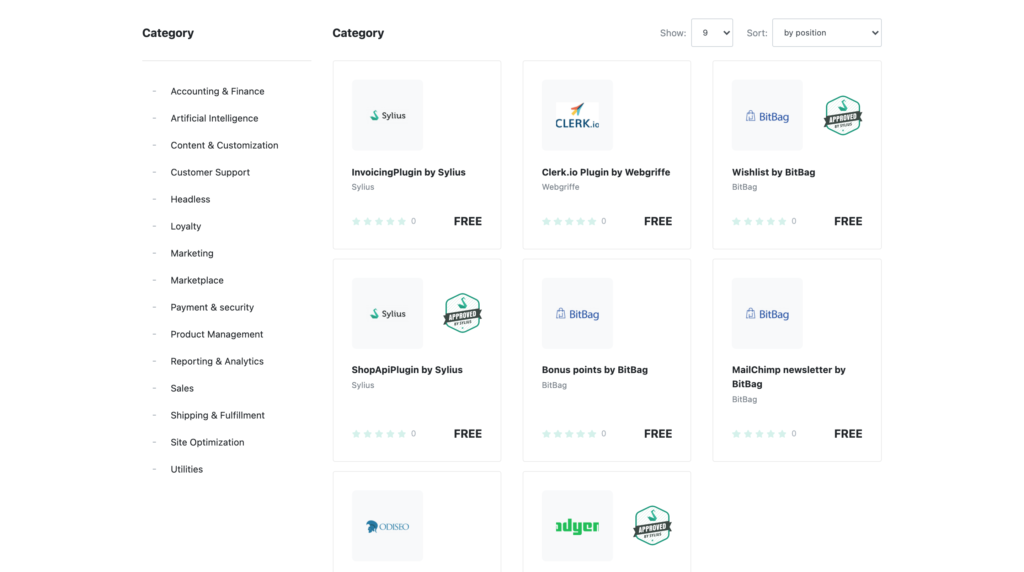 Want to share your plugin with the Community?
A: Wow! Indeed, it's great to see our network's commitment used in our new store. 
M: It is really fantastic! Apart from plugins, we have also added some optimisations to better serve the New Sylius Academy, such as automated login and access to the GitLab repository with online course code examples, with a special Slack invite to the exclusive channel for attendees still to come. We are also working on seamless access to premium Community extensions via Private Packagist.
Symfony developer willing to learn Sylius?
Plugin backlog
A: If you were to put anything on your "Sylius Store wishlist" what would it be?
M: We'd definitely like to speed up the plugins review process which – let's admit it – was never our strong side.
A: How about submitted plugins that are still pending review?
M: I knew this question would eventually arise.🙂 Let's say it out loud, plugin evaluations were always a pain in the back for both us and, especially, the plugins' vendors. 
As a Sylius representative, I've always been the bottleneck and found it hard to process plugins on a daily basis due to the amount of other work.
Going straight to the answer. All the submitted plugins are safe in our database, therefore I'm sure we will be able to eventually start processing them, as now we have the new Store finished. I'm also constantly thinking about possibilities to make this process smoother and faster (I've some ideas already, we'll see how it goes). Nevertheless – there are a lot of them, so it will still take a while. 🙂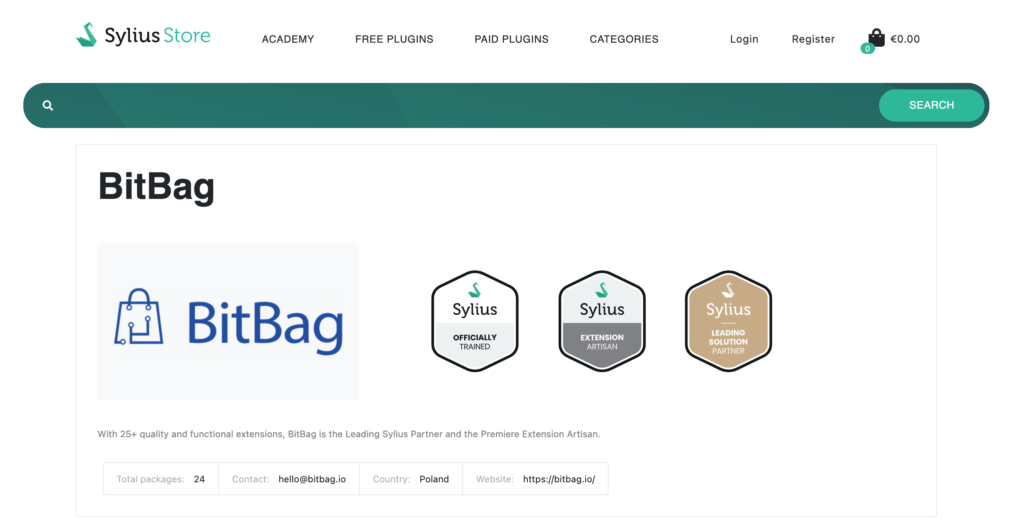 Sylius Store future
A: You mentioned Sylius Store 1.0 could go beyond "just" selling plugins and courses – do you have something specific on your mind?
M: Well, I cannot deny plugins are – and most probably will be – the core of Sylius Store. Apart from that and the courses, we don't exclude other options like Sylius themes or Sylius-dedicated merch…who knows?
A: It seems the sky's the limit! Thanks for your time Mateusz and once again congrats on this release.
M: Thank you, I hope our ecosystem will enjoy using it!