Why become a Sylius sponsor?
For over 10 years, we have been developing publicly available high-quality software. We're proud it allows building any type of e-commerce business for any Symfony developer in the world. Through all this time, we have been hearing from many of our awesome community members that they would love to contribute to product's and organization's development. Not everyone can submit a code line though. Some of you told us that the sponsorship would be the perfect way to appreciate our work. And we could not be more grateful. Thus, we decided to activate the GitHub Sponsors program on our organization's repository so you can become a Sylius sponsor.
If you need a more precise reasoning of what the sponsorship will go for – we are currently building a long-desired catalog promotions feature that will be released with version 1.11 in January. Other things like full API Platform feature coverage and Symfony 6 support are obviously on the roadmap as well.
Nevertheless, we decided no to set up any specific goals and make the sponsorship ongoing instead. We are starting with simple one-time and monthly payments that do not promise anything in exchange apart from unique Sylius NFTs – but this is already a lot.🙃
What is NFT?
NFT is a unique and non-interchangeable unit of data based on a blockchain architecture. It all started with Ethereum – a crypto currency project launched in 2015, however the first quarter of 2021 has become a real blast for this phenomenon, with sales exceeding $2 billion according to NonFungible.com – around 20 times more than in the previous quarter.
An NFT object consists of two parts: a digital or physical asset of any kind and a license of how it can be used. They work similarly to cryptographic tokens, but they are not interchangeable (hence, not fungible). It means they are not equal as, for example, bitcoins – each NFT token may have a different underlying asset and have different value.
Each token is unique and its veracity can be verified with the blockchain ledger. When it comes to ownership – it is usually conferred within the license – sometimes allow only personal, non-commercial use, while others admit commercial use as well, nonetheless usually they don't transfer copyright to the buyer.
NFT and Sylius – where's the connection?
So, sponsoring us via GitHub provides you with the opportunity to add your virtual brick to the idea you cherish.
We offer two simple options: monthly and one-time tiers. In both of them, you can go for a voluntary contribution. The one-time donation, however, allows you to purchase a collectible NFT badge for 2021 and soon it will also provide more seasonal badges to collect.
Sylius NFT tokes are minted via Hic et Nunc in a tezos standard. We are planning two types of tokens – annual and seasonal, both in a limited number and with a time-bound purchase. All unsold units will be burned which means that only the purchased ones will be left in circulation.
Our main goal for them is to become collectible (and highly desirable 😎) assets for all Sylius lovers with the option to resell them (with a 10% commission for Sylius).
So, they are quite cheap now, but who knows how much they are worth in the future? 🤑
Annual vs. seasonal Sylius sponsor badges
Annual tokens will always cost $50 and will be available for the current year, whereas the seasonal badges will only appear for a very limited period of time (for example 3 weeks) in order to celebrate an event, festivity or an important milestone and their cost may vary.
Right now, just to give it a go, we present our limited 2021 Halloween badge. It can be yours for only $20, so it's an easy way to start.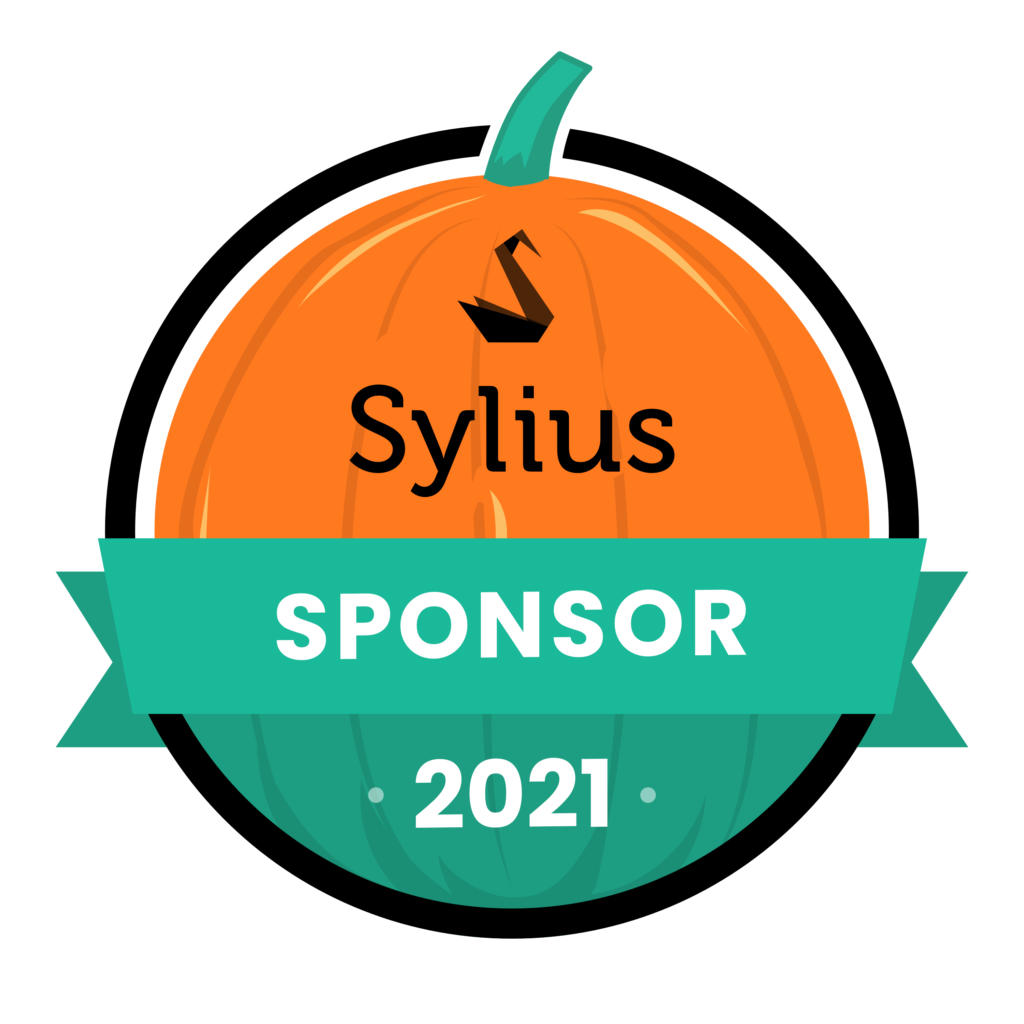 We encourage you to create your wallet and dive into this new exciting world of digital collecting with us!
What's next?
Well, NFTs are just the beginning. Just because we love crypto and innovation. Inspired by the Symfony Sponsor Program, we are considering different sponsorship tiers for things like release readme & blog posts mentions, website, documentation, and e-books placements, and even some consulting hours provided by Core Team Members.
Let us know what best speaks to you and what other sponsorship options you would recommend us!