About SyliusCon 2022
Aldona Krysiak, Sylius Content Manager: Tymoteusz, first of all congrats for SyliusCon! It's a great step, and – as you know – we're all really pumped at Sylius, but could you shed some light on why now?
Tymoteusz Stengert, SyliusCon Director: Thanks Aldo, and of course :). Both Sylius founder – Paweł and most of the first employees, or co-funding partners, as we call them internally turn 30 this year, and somewhere at the back of our heads we've always dreamt to organize a big Sylius festivity on this occasion. You know, a proper milestone 🙂
But apart from that, Sylius' code – in various forms – has been open source for more than a decade now, and we all feel we need to sum up this journey somehow – all these years of hard work and pursuing quite uncommon vision. Sylius, as a framework, not a platform, has been promoting decoupled architecture before the "composable commerce" trend even existed, and we're forever grateful to all the people who actually believed in this idea and trusted their businesses with us.
Please mind it's also the 1st of June today, so the International Children's Day. Let this announcement be a big gratitude gift for all Syliusers in our beloved Community!
Sylius Community
Aldo: Speaking of which, how's the Sylius community going?
Tymo: Really great to be honest, especially if we take into account that it has been a 100% organic growth. Right now, we've got over 5150 members on our Slack, with the numbers steadily on the rise.
The most impressive number though are as always connected to our code:
Apart from that, we now have over 65 business partners including web agencies, technology providers, and hosting companies from all over Europe and beyond.
SyliusCon 2022 – who is it for?
Aldo: Alright, so let's get down to business – who's SyliusCon for?
Tymo: Well, without beating around the bush, our main audience has always been developers, CTOs, architects – in general, tech leaders, rather than "business people". We've consequently (and quite successfully) operated in this niche, and we won't be changing the focus just now. I don't want to be discouraging to business practitioners though – we've planned two tracks – tech and biz, so there will be some meaty content for all e-commerce pros.
Aldo: Can you reveal something more about the tracks? What can the participants expect?
Tymo: Above all, we aim SyliusCon to be the best place to connect with all top Sylius practitioners, including Sylius Core Team members, business owners with their stellar implementations, and the partner network. When it comes to the business track, we will showcase our most complex projects for B2C, B2B, and marketplaces.
Our guests will also have a chance to meet best-in-class PHP, and Symfony specialists.
Aldo: And can you share any names?
Tymo: Well, I don't want to reveal everything just yet because we've just started the Early Bird promotion. However, I can confirm for sure that we will be honoured to host rockstars from the Symfony & API Platform Core Team, with Nicolas Grekas, and Kevin Dunglas on top of it. Quite famous PHP personas are also coming, including Thomas Votruba – Rector PHP Creator. Also, don't forget about our colleague Łukasz Chruściel – Sylius Core Team Lead who is a well-known industry conference speaker and helps me with coining the best possible lineup.
Last, but not least, the cherry on the cake of the business track should be the presentation from Maximillian Pesch, Brille24 Tech Lead. He was one of the key people responsible for the long migration process of this leading German optician from Magento 1 to Sylius Plus recently described by you in a very cool case study. Sorry, my opinion is biased, but I do believe people should read it. 😀
I can say that the lineup is mostly done, but we are still open for call for papers. Not sure if we are going to make it public. So, I encourage every Sylius lover to reach out to us if they think they have some interesting topic to share. We shall answer everyone!
Aldo: Wow, impressive. A truly dense lineup!
Tymo: Yup, we're quite proud of it, and that's not all, of course.
SyliusCon 2022 location
Aldo: You've decided to hold SyliusCon in Łódź, Poland, haven't you?
Tymo: Indeed. It felt safe to be around for the first time. Łódź (pronounce: [woodge]) is our home town, and the place where Sylius was "born". In 2011, in one of many blocks of flats, Paweł created the first lines of code for a new e-commerce solution because he didn't like the quality of Magento, PrestaShop, and other available platforms. He wanted his family cosmetics firm to start selling online, and here we are in 2022, still living here and enjoying it more and more. So it was a natural decision, however, it took us some time to acknowledge it at first.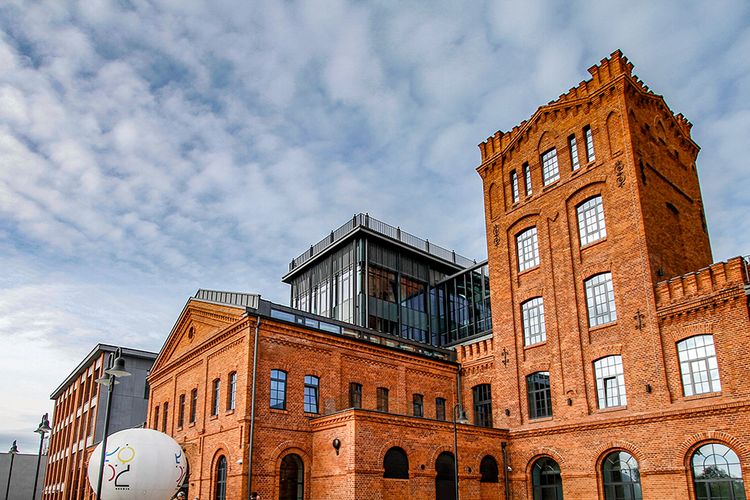 Aldo: And why's that?
Tymo: Well, given most of our Community is from western and southern Europe (with the biggest representation in France) we wondered if people would like to travel here, but come on – Łódź's an amazing city! With the heritage of being the center of the textile industry in the 19th century, nowadays it's becoming a dynamic hub for new technologies, the threads that weave the code of the industry 3.0. It is full of stunning brick buildings reminding us of the prosperous past yet heading towards the future, as most of the numerous factories from the period are being (or have already been) revitalized to serve as cultural centers, business hubs, or restaurant complexes.
What is more, last year National Geographic named Łódź one of the "Best of the World 2022". Do you need more arguments? 😎
Aldo: I can see you're a true local ambassador Tymo 🙂
Tymo: You bet I am!
Aldo: Alright, but what about getting to Łódź?
Tymo: There's an airport here, unfortunately, there aren't many flights available. The best way to get here is to catch a flight to Warsaw, and then travel to Łódź by train (around an hour) or to rent a car and jump on the highway. If there are a lot of people coming from France at the same time, we might even think of some special bus charter!
When it comes to accommodation, Łódź offers a wide range of hotel options – from budget to five-star hotels.
Oh, and I'd have forgotten, SyliusCon will be held under the patronage of the Łódź City Office – I'm very proud our hometown recognizes us as a partner organization.
SyliusCon2022 partners and sponsors
Aldo: Are there any other partners?
Tymo: As we're not too keen on reinventing the wheel <wink> we asked our friends from PHPers Summit – the largest PHP conference in Poland AND using Sylius for their ticketing system for some golden advice on large event organization. They also agreed to become partners of SyliusCon. For this occasion, only today, you can save your seat at their conference 10% cheaper.
Apart from that, there are over 10 fantastic companies that already confirmed their willingness to sponsor the conference.
Aldo: Congratulations – are you still looking for sponsors and media partners?
Tymo: Definitely yes! If you'd like to learn more about the sponsorship tiers – reach out directly to me or jot us a note through the contact form.
We are also open to all types of support – media partners are more than welcome. Pssst. I will officially announce SyliusCon in the city office this Friday together with the Vice-President of Łódź!
It turns out SyliusCon is one of 7 key IT conferences for the city in 2022. We are proud that our local authorities are investing a lot in technology businesses here.
Become SyliusCon 2022 sponsor!
Jot us a line, and we'll fill you with all the details
Aldo: Alright, I'm happy with the support Sylius receives locally but let me play a devil's advocate for this one – why should someone want to sponsor SyliusCon?
Tymo: Well, first of all, it's the first SyliusCon ever, and it's always better to be first. 😏 Also, Sylius is literally booming in the Symfony ecosystem (mind the numbers I've shared earlier), so it's a great opportunity to gain visibility among the community and form new business alliances.
We have prepared quite advanced benefits for various sponsorships levels, incl. free tickets, communication of sponsors' brands on all our channels (Slack, social media, newsletter), and at the venue (booths, presentations, co-branded rollups, and goodies); participation in a special dinner, and so on… The sky is the limit. 🙂
Lastly, Sylius as a product has always grown organically – the perspective of selling to a VC fund was never our drive for doing what we do. That's why your contribution, apart from making the event better, will be reinvested in the event and the product itself.
SyliusCon 2022 webpage
Aldo: OK, so where do I find all this information about the conference?
Tymo: Well, we've just launched a dedicated conference website: sylius.com/syliuscon. I am really happy with how much Łódź-like it is thanks to our awesome Graphic Designer Szymon. You will find there not only images of classical brick buildings, but also so-called "Strzeminski's font" – the typography actually invented by an avant-garde painter famous in our hometown.
There's also one more crucial thing to mention…
SyliusCon 2022 tickets
Aldo: …what would that be?!
Tymo: Tickets of course! The new website will direct you to the checkout with tickets powered by… the Sylius Store. So far it has served as the place to buy community plugins and Sylilus Online Course. However, it has been a pleasure to eat our own dog food again and use our solution to sell such important products. Our engineers Mateusz and Dominik have done some really great work on customizing Sylius to meet conference organizers' expectations.
What is more, the payments are enabled thanks to the official Sylius/PayPalPlugin. You can also pay offline if you prefer a classical bank transfer upon invoice. We're planning to launch more payment methods soon.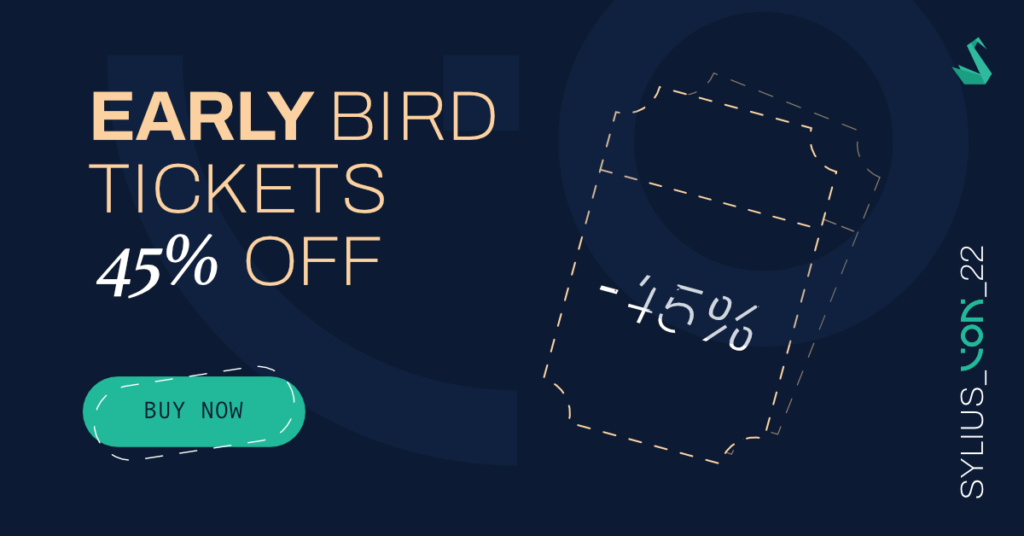 Aldo: Fine, but… how much? And what are the discounts? 😀
Tymo: Alright, alright, I'm getting there! So the Early Bird ticket is available for €125 per person until the end of June. Which makes it around 45% cheaper than the default price: €230. Afterward, the cost will gradually increase.
Just to finish, I'd like to also tease our Community a bit. This is not the last product connected to this conference. Stay tuned and you will love what's coming next!
Aldo: Thanks for the candid answer and time for the interview Tymo!
Tymo: Thanks, it was a pleasure talking to you and organizing all this. Big kudos to all our mentioned colleagues, but also to you, Olga, Paulina, Przemek, and Kevin from the Business Development team. I am happy to work with you and can't wait for THE big event!
Save over €100 and buy the Early Bird ticket now!