As part of the evolution of its digital ecosystem, G20 wanted to modernize its click & collect platform "G20 Minute". G20 chose Calliweb to accompany them in the mission. They also asked our partner to work on boosting G20's digital strategy.
G20, a Diapar Group brand, is a French supermarket chain founded in 1975. Today, G20 has more than 130 independent stores. These supermarkets are located both in the Paris region, in the west, north and east of France. The brand places customer expectations in the very center of its services.
There were two main goals to focus on in this project:
– To develop "G20 Minute" – a sales platform for customers (BtoC approach) 
– To make the management of this platform by the stores easy (BtoB approach)
Goals for designing the new G20 Minute ecommerce platform and making it efficient
G20 – click & collect pioneers
G20 was a pioneer when they first launched their click & collect service back in 2012. However, it hasn't undergone any major changes since then. It was therefore essential that it evolved.
They wanted to offer their customers a better shopping experience, so they could respond to new uses of a wider target, as well as to highlight customer benefits.
Expanding options means enhanced customer service
Initially, the G20 Minute platform only offered click & collect. As a real business challenge, especially since the health crisis related to the pandemics struck, this service had to evolve and be enriched with new features.
One of the crucial ones was home delivery, which is now available at the G20 online stores. Users can now choose the method of order collection that suits them most from the pre-homepage. They can also modify this choice at any time via options in the header space.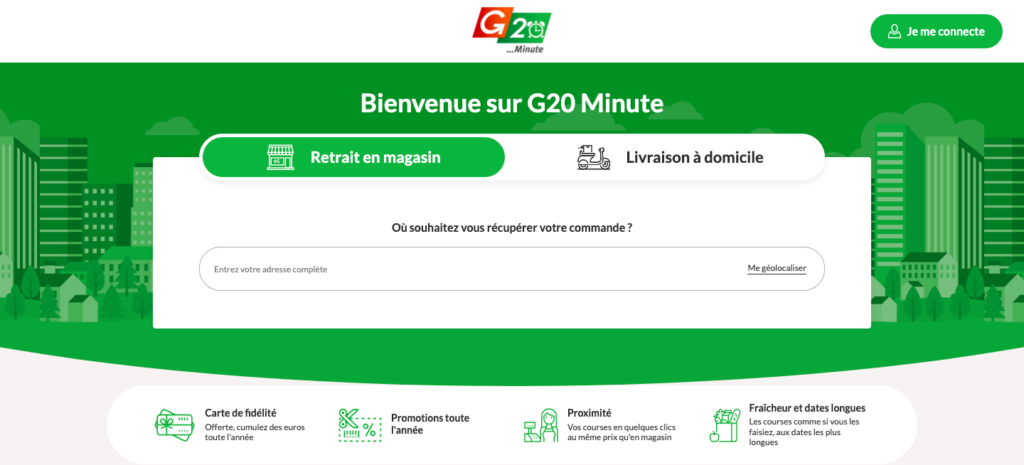 A modernized UX/UI design for a modern customer journey
Starting at the very root of the website, Calliweb completely redesigned the tree structure to meet the current trends of e-commerce sites, and navigation on mobile devices. They have also revised the search engine and the navigation by product family. Additionally, the website has now some refreshed filters as well as a way to highlight promotions and products.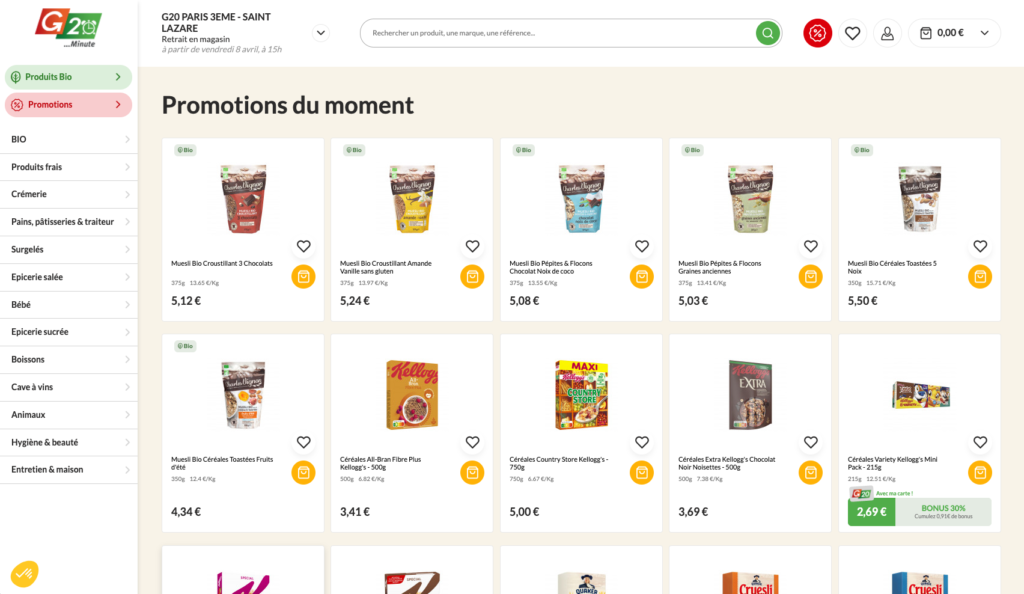 Calliweb also created a new digital graphic chart based on the historical chart of the G20 group. It seemed appropriate to rework the graphic palette of the brand by giving it a brighter and more colorful side. They also added quality visuals and new icons. What is more, there are now new product thumbnails to quickly distinguish the different offers applied.
The reasons behind choosing Sylius ecommerce framework
Sylius ecommerce framework turned out to be the best fitting framework due to the complexity of G20's promotions system, and the specificity of the ecommerce site. As Calliweb is an implementation specialist for other ecommerce systems – such as for example Magento, they have a good overview of what functionalities can be covered within different systems. Nevertehless, their analysis of needs pointed out that Sylius was best suited to this project. In particular, Sylius allowed the Calliweb's team to meet the omnichannel and interfacing needs required for that ambitious project.
Omnichannel
In the case of G20, omnichannel is a crucial value, as it correlates strongly with customer loyalty. Therefore, regardless of the customer's purchase channel, the discounts that apply to their cart are taken into account. Moreover, the calculation of customer discounts depends on various factors.
Marketplace
G20-minute concept bases itself on an almost marketplace structure – the physical stores are 100% independent, including the shipping rules (such as for example home delivery fees, minimum order, etc.), pricing, and assortment of products. That is why Calliweb's tech team needed a robust solution with complex rule engines to calculate both the final value of a shopping cart, and shipping costs . The result allows the site to aggregate the right data and deliver the right information to customers.
In addition, the Sylius solution lends itself perfectly to interfacing with the supplier management platform used by the G20 teams. It also allows for very good performance in terms of SEO scores.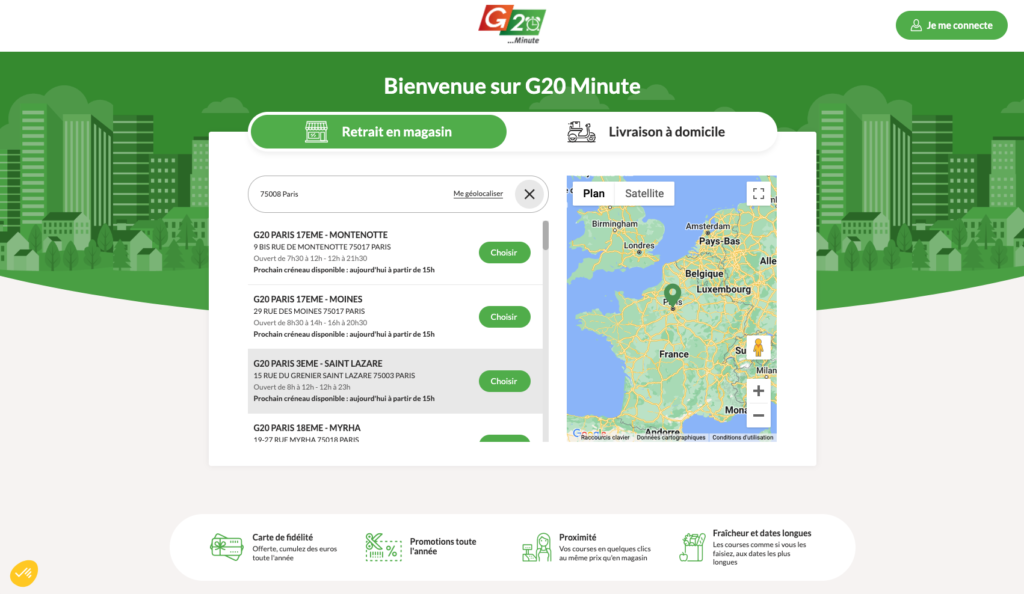 Custom order management system for stores connected with blocks of Symfony
Because of their independent status, G20 stores sell their own selection of products. Alongside the redesign of the G20 click & collect platform, Calliweb developed a custom-made OMS (Order Management System) based on the Symfony framework.
It allows the stores to manage their offer in a simplified way. Due to the organizational reasons, it is also essential for the managing staff to have a complete overview in one place, as some managers own more than just one store.
Calliweb developed an OMS with an ergonomic user interface that can be easily configured by stores. The UX/UI design was entirely conceived by Calliweb's web design studio in order to ensure a quick and easy learning curve for users.