Clickable Automotive is an online platform specializing in European, specifically – German, car parts. With HQ in Melbourne, it's been operating across Australia for 10 years now. Some time ago, they decided a migration from their outdated platform is a way to move their business forward. Read how moving away from Magento 1 to Sylius worked out for them.
Clickable's business idea
The idea for the business came from a genuine need to have a space to get decent parts for acceptable money, quoting the founders: "Clickable was founded because we were really frustrated at how difficult it was to try to source quality parts at reasonable prices in Australia. Most enthusiasts would buy online from abroad simply because the local prices were high and the customer service poor. Things needed to change. Our focus is on making European vehicles more enjoyable and affordable for everyone here at home."

Clickable believes in flawless customer journey and at some point they realized their e-commerce platform became a blocker of customer satisfaction and while one of the company's core values is top notch customer assistance, they also needed a new online system to catch up.
At this point they got to our Leading Solution Partner – BitBag, that developed the final solution, but before we'll get there, let's have a look at the "before" landscape.
Before the migration
​​Up to Fall 2021, Clickable worked on Magento 1, a system that has been without official support since June 2020. 
'Not supported' means that no official security patches and fixes are released and the code base freezes. In this sense,it does not only mean "outdated" but also – what is much more dangerous – vulnerable to malware and cyber attacks.
Additionally, it turned out that Clickable's architecture documentation was not complete, and yes – it is when our partner BitBag took over.
Not only did they have to deal with an out-of-date platform, they also had to figure out the current system logic, in order to fully encompass the project they saw in front of them, all that with a monstrous 9-hour time zone difference.
How to make it all work again?
With a clear objective to design a clear system prepared to perform BitBag got down to work prioritizing cleaning up the flawed code, and of course – the migration from Magento 1 to Sylius with all of the data and functionalities transferred.

Clickable wanted a strong UX to simplify the customer journey understanding that choosing the right car part may be a real pain. They needed an advanced search engine, a functionality for grouping products, a well-integrated warehouse management system, and an inventory management system to achieve it.
In order to reduce the risk of purchasing parts that don't match, BitBag added a series of information and warnings along the whole buying process. It included product list, product page, with a customized cart and checkout banners.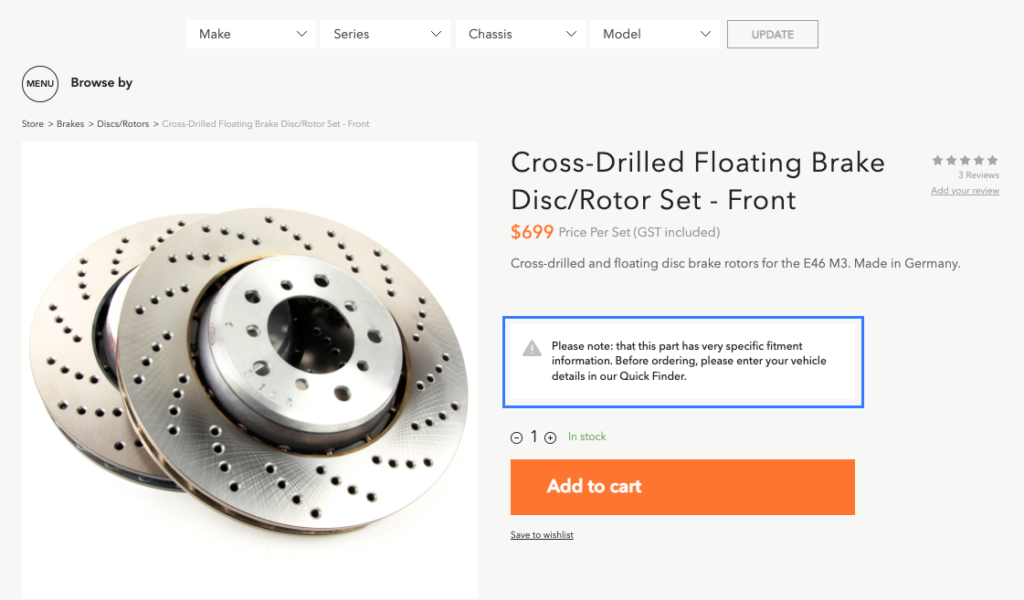 In general, the whole platform underwent a thorough refurbishment starting with the very code and finishing on unifying the entire graphic design.
Why Sylius?
A strong back-end solution such as Sylius works marvels when your business model's based on high product customizability. It provides many non-standard options, functionalities added to checkout, custom transport options – you name it. 
 

For the past few years, our development on Magento 1 had almost stopped as we didn't want to build new functionality on an outdated and unsupported platform. Sylius provides us with the tools to have all the functionality we need now, with the upgradability and long support for the future. Managing our specific product fitment information has been made much easier for us on Sylius.

Lucas O'Brien, Manager at Clickable
Apart from the ease of customization, and clean code considerably enhancing developers' experience – which is a significant aspect when it comes to the overall development time, choosing Sylius may reduce the very cost of development. 
 

When we decided to upgrade from Magento 1, we chose Sylius for the lower cost of development, flexibility the platform gives us, and the site speed we could provide to our customers compared to alternatives like Magneto 2.

Lucas O'Brien, Manager at Clickable
Dive into our Sylius vs. Magento comparison
Customer journey with Sylius engine 
Migration to Sylius
Clickable Automotive successfully migrated from Magento 1 to Sylius using BitBag's migration tool. This, along with cleaning up the code structure allowed our Leading Solution Partner to build a complex architecture with Sylius as the main engine of the operation.
Search engine and Warehouse Management System
To make the customer journey compelling, Clickable Automotive needed complex multilevel search tools to enhance the customer journey and easily narrow choices to the one matching car part. In the end, most of us wouldn't note a difference between a thermostat and an ignition coil if we saw them without packaging 🤷.
Quick-finder and fitment is a search engine that allows customers adding car models to their account saving time during purchase. It also takes into account the fact that sometimes the relation model-car part may depend on additional conditions such as production year).
Combined with the multi-level quick finder selecting tool which allows sorting by make, and then – additionally – by a specific category, for example 'brakes'.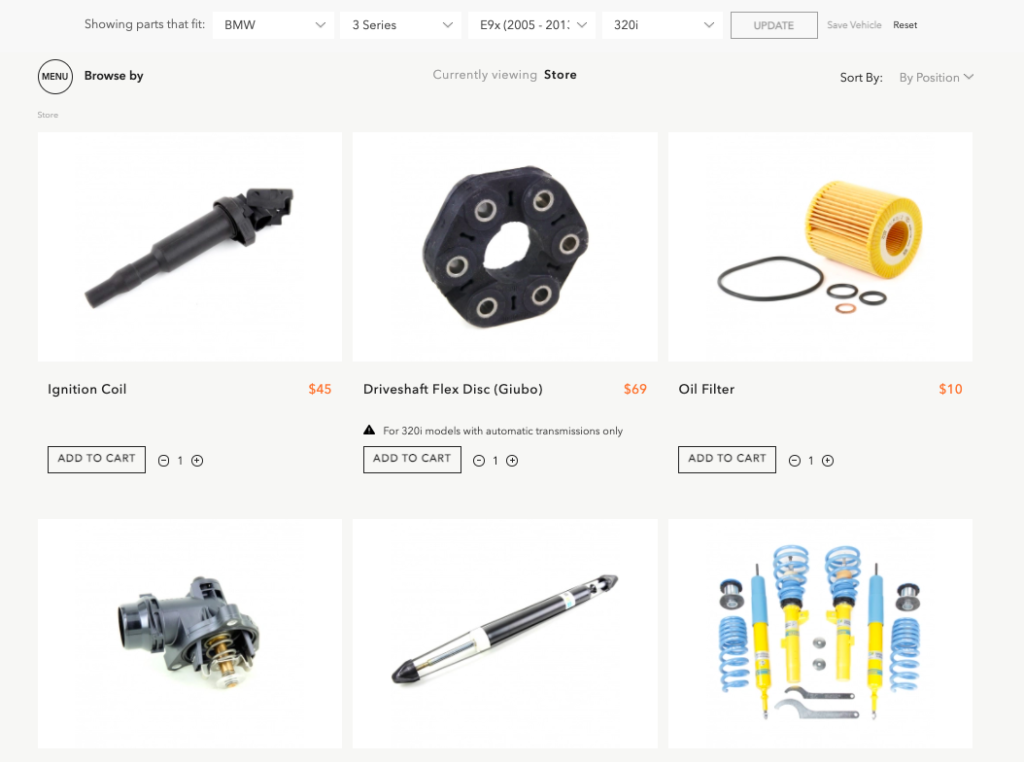 Obviously, none of the above would work without a powerful WMS integration. Each order updates the product inventory, with an additional cron check, which allows a periodical data synchronization between the systems. If any error is detected, a specially coded system sends a report message to a selected email address. What's also helpful from the admin's perspective, the products are automatically created in the integrations after they're created in Sylius.
From search to purchase
Following the motto 'Simplifying the complex' Clickable bet on many more functionalities enhancing the customer journey.
As most search parties in the internet usually start with Google, Clickable decided to go for an integration with Google Shopping Feed, this way files with advertising information are automatically generated and help acquire the potential clients.
If they decide to click, they'll tumble upon a minimalist yet appealing page design that helps finding what you're looking for faster and contributes to the overall client's satisfaction.
Okay, and if the product's not in stock? You can use the product subscription option – not only will you get a notification when it's back, but it will also share the approximate date of availability.
To speed up the final part – checkout, BitBag used their own plugin (One-Page Checkout). All of the information entered on a single page without endless steps for address, shipping method, payment, etc.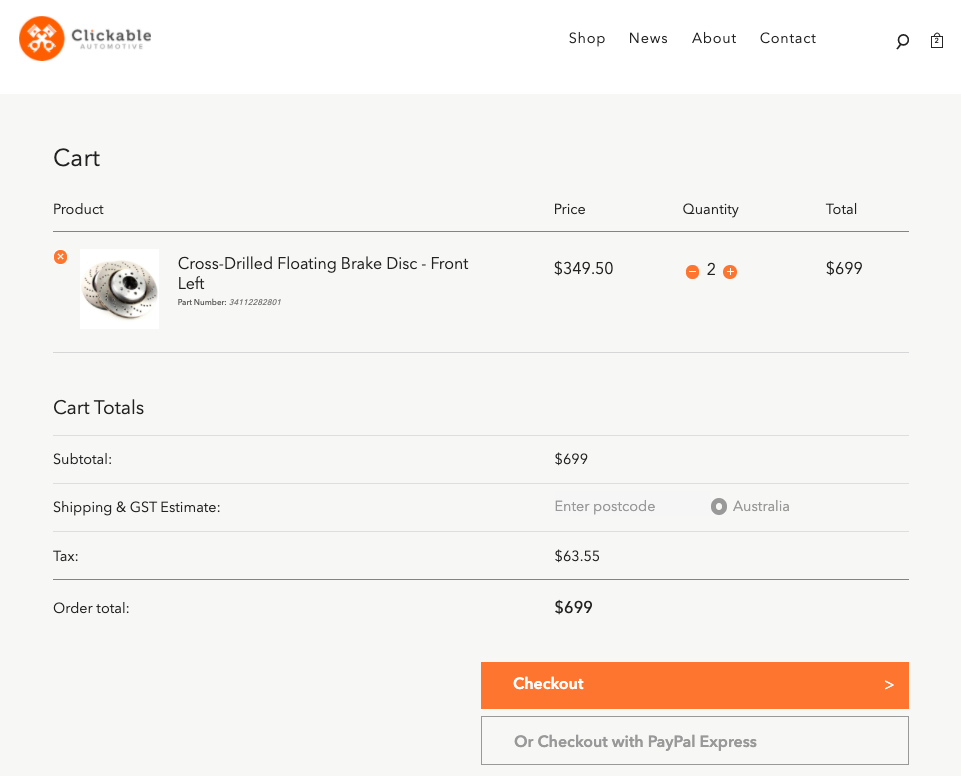 Although, if it turns out you need to leave the checkout and go back to the cart or even shopping – it's not a problem, even if it's at the payment stage. After the payment is cancelled, the basket's contents will be there to get modified, so you won't have to look for all of the products again.
Reviews
After the products are purchased (and tested) the customer can review them at the platform. With the four-factor product review system one can evaluate delivery, quality, experience and price. A quick glance at the comments confirm Clickable does the job well.

There's also an additional perk in leaving a comment – after 2 weeks from purchase the customer receives an email encouraging them to leave a review, and if they do, they will be granted a shipping voucher automatically assigned to their account for future visits.
From Magento to Sylius
It's yet another migration from Magento to Sylius and we can start to trace a trend here. We encourage you to read the comparison of these two platforms, available here.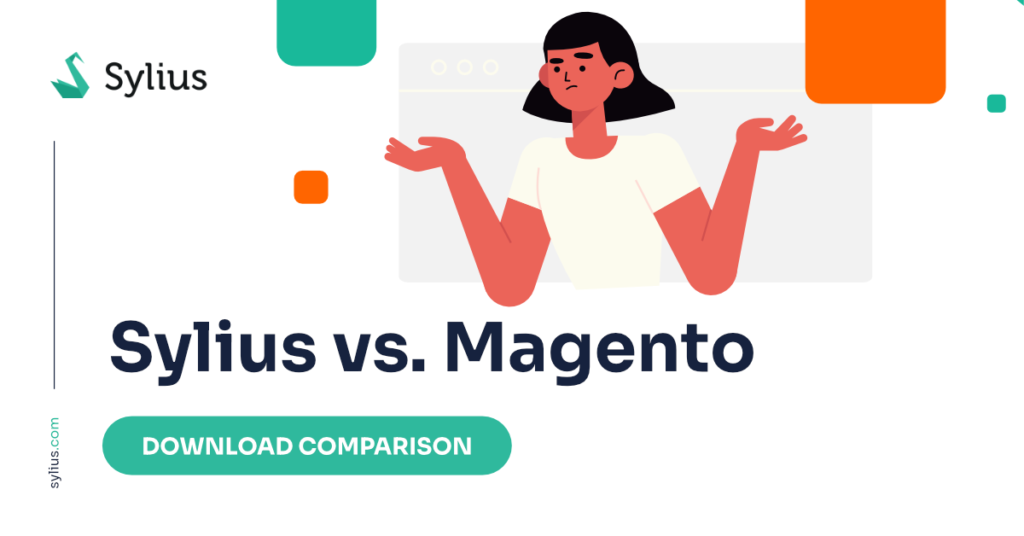 And just before you ask yourself the question: Is Sylius the next Magento? We assure you – it is not, however the businesses that chose Magento a couple of years back may actually be a great fit for our technology. So if you need some custom coding and you insist on a stable and clear code base to maneuver your online store THE WAY YOU WANT, and not the system dictates, hit contact and jot us a line!