Background
Centros Único is an aesthetic medicine company, a pioneer in laser hair removal in Spain. From the very beginning the idea behind was to democratize access to the top quality cosmetic treatments, and it's already been over a decade since it adapted an internationally recognized hair removal technology and put it at the service of a large segment of the market in such a way that it was affordable and accessible.
Today, the company hires over 1000 experts and is a market leader in Spain with a vivid franchising business with more than 170 specialized centers in Spain,Italy, and Portugal. With a unique – in this sector – model of sale (online store for offline services), Centros Único is driven by innovation and top-notch technology.
It was just a question of time this rapidly growing business would outgrow its e-commerce solution based on WooCommerce. With the help of Cloud District Digital Company's coding hands, Centros Único started their migration journey redesigning the e-commerce platform in order to live up to the growing needs.
Has your ecomm outgrown your current platform?
At Sylius we know what to do with it.
As one of the pioneering aesthetic and laser hair removal companies in this type of technology in the market, Centros Único started a digital transformation process to capture the attention of people who do not know the brand, and who may be interested in the products it offers.
In order to achieve that, the company must provide all the necessary information in a clear and precise way to convince the potential customers to make the purchase, consume the digital product they have acquired and – eventually – return satisfied with the whole service experience.
At some point, it was not possible to align the business objectives with the e-commerce flows – the operations started outgrowing Centros Único's e-commerce platform. As it couldn't support further scalability and – thus – flexibility , especially in the most crucial aspect – the promotions segment, it had to be exchanged with a system prepared for robust customization.
A robust and extensible solution for a complex integration context, a perfect match
Challenge
The overall goal of this project was to implement a new e-commerce platform for the Centros Único chain ready to encompass a complex architecture, scalability and appealing front. It consisted of improving the user experience at each step of the buying process with WordPress as the content management system in the front and a powerful e-commerce engine in the back end.
From a more specific and long run point of view, considering business – Centros Único wants to improve its position on the market, increase the volume of online sales, so it adds to the offline sales. Whereas, in the development area, the main challenge was to integrate the front end based on a different technology such as WordPress with the Sylius core, taking advantage of the API clients, so it looked visually compelling on any device.
Why Sylius?
Cloud District took care of the whole development process and while considering the best fit solution for Centros Único, they hardly had any doubts:
Sylius is a robust, scalable, very flexible solution that is also supported by Symfony, another technology that we know well in the Cloud District. This latter offers the flexibility to build the desired software by choosing only the necessary pieces, it allows building from a large monolithic system to a microservices architecture, reducing the time to market to the maximum.

Another advantage of using a tool like Symfony is the ecosystem that surrounds it and its large PHP community. Industry leaders collaborate in their repositories to make the framework more professional.
About Cloud District
With 10 years of presence on the market and a leading technology consultancy, Cloud District worked with more than 250 companies, offering digital end-to-end services and generating transformations of great impact. They have an expert development team ready to excel new digital products.
Are you lacking scalability & flexibility in your e-commerce platform?
Unleash your potential with Sylius.
Solution
The whole process of development took 4 months. Cloud District used an integration of the CMS with WordPress, and an integration of the Points of Sale (POS), which allows each establishment of Centros Único to operate autonomously with their own bank accounts. They also integrated logistics processes, as well as Google Analytics, and generated an ad-hoc payment gateway for deferred money transfers.
Easily extending and adding the payment components allowed us to give the customer the solution they needed.
A company like Centros Único, when working with new and recurring clients, also needed a mailing service to communicate their products and promotions.
When it comes to the hosting solutions, Cloud District implemented Google Cloud Platform in continuous deployment and seamless integrations.
See Cloud District's case study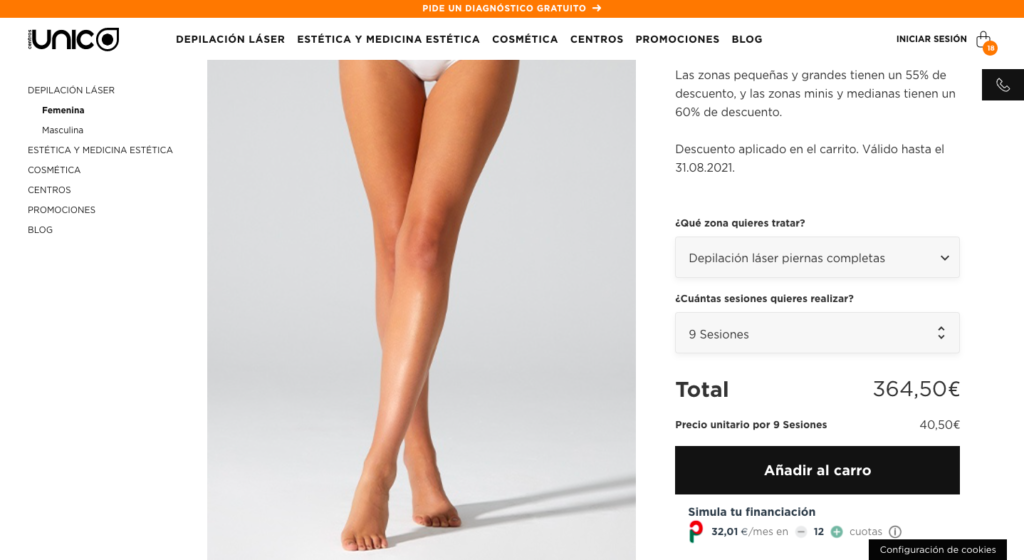 Results
Both in terms of user experience and internal management by the e-commerce teams the results are satisfying. The response to peaks is very good and so far, there hasn't been any need to scale the platform.
With frequent promotions that Centros Único launches, the promotions module works very well and it is easy to customize for a promotion the client specifically desires. In this crucial business area, the performance of the application has never failed or caused any troubles.
Both the agency and client admit Sylius is a robust, scalable solution, with good documentation on its modules, future-proof and reliable.